5 Questions To Ask Your Partner If You're Worried About Them Cheating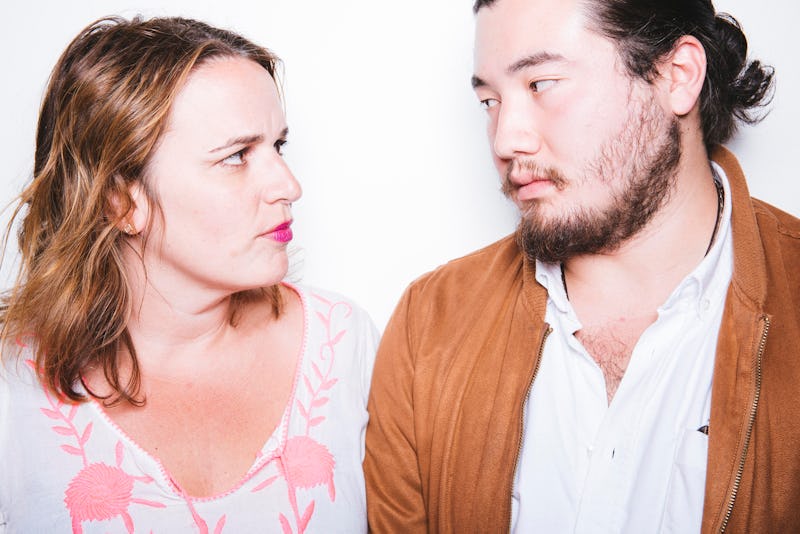 BDG Media, Inc.
When you're in a relationship, it's totally normal to sometimes feel worried about your partner cheating on you — particularly if you've been cheated on in the past. Even if you trust your partner, we're all only human, and it's natural to feel anxious about even the mere possibility of being betrayed by someone you love. But if you want your relationship to be solid, stable, happy, and free of anxieties about cheating, it's important to address your concerns with your partner instead of letting your fears control you and affect your relationship.
"For many individuals, a fear of their partner cheating creates a deep anxiety that can lead to jealous and even controlling behavior," Jonathan Bennett, relationship and dating expert at Double Trust Dating, tells Bustle. "However, it's a difficult topic to bring up because many people feel attacked and accused any time the topic turns to infidelity. But, if one partner has a history of being cheated on and has anxiety about possible infidelity, having an open and honest conversation about it can do wonders for the relationship."
Infidelity might not be the most fun conversation topic, but it's so important to be on the same page with your partner about what exactly cheating means to each of you, and to voice your concerns in a way that's constructive rather than destructive.
"If your partner is worried about you cheating and brings it up, realize that it could be a source of great anxiety and try to do your best to respond gently and without defensiveness," Bennett says. "However, if you're initiating the discussion about cheating, make sure the conversation isn't confrontational or attacking. Speak from your perspective, focusing on your own anxiety and worries rather than what you fear your partner might do."
So if you want to talk to your partner about your cheating-related worries, here are five questions that can help make sure that your conversation about cheating is a productive one.