Michelle Obama Continues To Be #BlackGirlMagic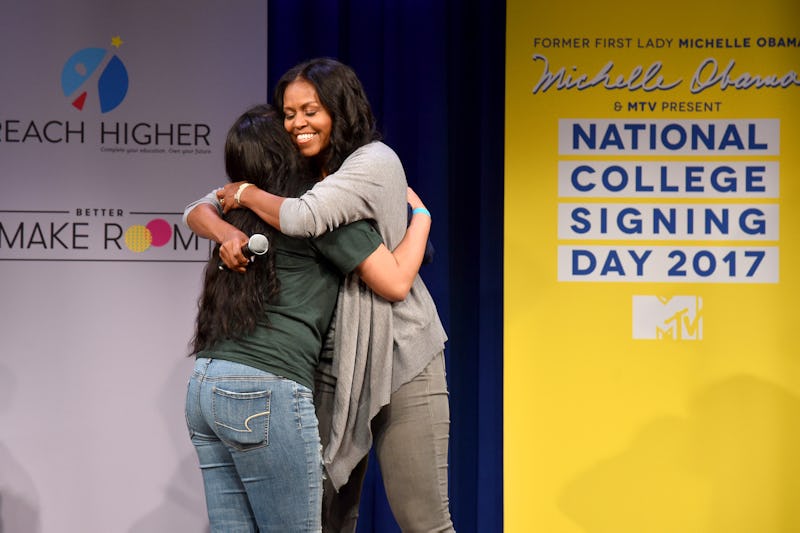 Bryan Bedder/Getty Images Entertainment/Getty Images
After an eight year reign in the White House — yes, reign, therefore acknowledging the queen-like nature of Michelle Obama — the former first lady created a legacy that welcomed the American people inside the doors of the White House, championed children's health, and empowered the rest of the world to let girls learn. But what makes Michelle Obama the epitome of #blackgirlmagic? Her commitment to staying poised in the face of adversity and continuing her mission to empower and uplift others.
Michelle Obama already unapologetically made us love her roles as a mother, wife, and first lady. She made "mom dancing" cool and helped motivate kids to eat healthy and stay active; these were especially impressive feats, given that these are also two things that are culturally stubborn. America's struggle with childhood obesity is real — and just picture your mom performing those dances instead of lady Obama. But alas, Michelle Obama faced some of our biggest challenges in this country with grace and humor where necessary. Even with a new administration already attempting to undo some of the signature points of Obama's presidency (i.e. Obamacare) , her impact on the conversation about healthy food and education can still be felt today.
So if you were absolutely sad to see her run as FLOTUS come to an end, recent appearances should get you even more excited. As if you needed another reason to appreciate Michelle Obama, she continues to leave us spellbound by her #blackgirlmagic even after the White House:
1. She's still committed to supporting America's youth (aka, you).
If you were practically in tears watching Michelle Obama leave the White House, if it's any consolation, she hasn't forgotten about you. This past weekend at the National College Signing Day in New York City, the first lady confirmed that she's still got America's youth in mind. "I might not live in the White House anymore, but Barack and I are going to keep on celebrating you all and supporting you and lifting you up no matter what house we live in," said the 44th FLOTUS in an inspiring speech.
2. She's (STILL) all about Girl Power!
During her days in the White House, the Let Girls Learn initiative helped inspire many to start talking about the educational disparities for girls worldwide. As of March 2015, the White House reported that the initiative has committed over a billion dollars in support of girls' education.
But Michelle Obama's humanitarian efforts, big and small, don't stop there. Michelle Obama generously wrote her college letter of recommendation for Black-ish actress Yara Shahidi. Not only is this beyond cool, but it shows solidarity. Michelle Obama used her post-presidential clout so that another young woman of color can follow her dreams.
3. She's carved out her own lane that is always #winning.
As a first lady that started with plenty of critiques and misguided stereotypes of being an "angry black woman," she arose the victor. By the end of two terms, Michelle Obama was being asked to run for president and had a number of impactful speeches that warranted the question, Why not? Not only was she named one of the most influential creatives of 2016 atop a list of numerous accolades, but even her husband can't accept an award without giving her credit. While accepting the John F. Kennedy Profile Award, Barack Obama said it was "America's great good fortune" to have had Michelle as first lady.
4. Her realness — and advocacy of her work — is still a breath of fresh air.
Recently, the Trump administration froze regulations that would limit the limit salt and increase whole grains available in kids' lunches. In response at a Partnership for a Healthier America Summit, Michelle Obama touched on this recent challenge to her legacy candidly!
"This is where you really have to look at motives, you know. You have to stop and think: why don't you want our kids to have good food at school? What is wrong with you?"
While many could call this a bold move, if you looked closer at Michelle Obama's FLOTUS days, you'd know that this kind of callout isn't out of the ordinary.
Did I mention how epic her side eye is? #Realness.
5. She proves that your best accessory is knowing yourself.
At the top of Vogue's "best dressed list," it wasn't uncommon to find Lady Obama in anything from Naeem Khan to J. Crew. As a noted style icon, not only for her way of wearing Versace, but the confidence she wields while wearing it. Her tall stature, and broad shoulders were once considered unfeminine, but as Michelle Obama showed us again this past weekend in a royal blue one shoulder, haters are gonna hate! What matters most is how you feel about you.
A very stylish reappearance at the JFK Profile Awards and recent speech at the National College Signing Day looks like just the beginning of Michelle Obama's positive impact after the White House. What will be even more exciting is how her vision for America will take shape through new projects and powerful speeches. Most of all, her fans have grown to expect nothing less than her unapologetic version of #blackgirlmagic.