6 Ovarian Cancer Risk Factors You Should Know, According To An Oncologist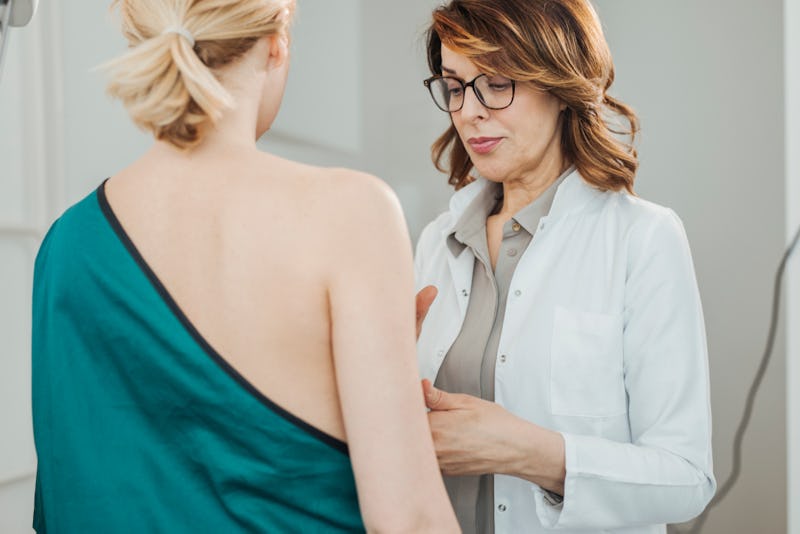 LStockStudio/Shutterstock
Ovarian cancer is one of the less talked-about women's health conditions, but it's important to know how to assess and reduce your risk. Doctors have called ovarian cancer the "silent" killer because it often first presents in advanced stages, as people don't spot the early signs, Julia A. Smith, MD, PhD, medical oncologist at NYU Langone Medical Center and director of the Lynne Cohen Cancer Screening and Prevention Clinic for High Risk Women, tells Bustle. However, as more information comes out about ovarian cancer's initial signs and risk factors, people have the opportunity to catch it in the early stages, when it's highly curable.
"There tend to be non-specific symptoms," Dr. Smith tells Bustle. "So, if [someone] develops abdominal bloating, can't close her waste band or her belt and thinks that's due to weight gain, or is having constipation and GI symptoms, she should go to her doctor. Everyone has those from time to time, but if they persist, she should go to her doctor. If the doctor doesn't take that seriously, she should insist they do, and if they still don't, she should find another doctor."
Ovarian cancer is pretty rare, Dr. Smith says, but it's more common among people with certain risk factors. Here are some ovarian cancer risk factors to be aware of so that you can get diagnosed and treated as early as possible.