These 6 First-Date Questions Can Lead To More Interesting Conversations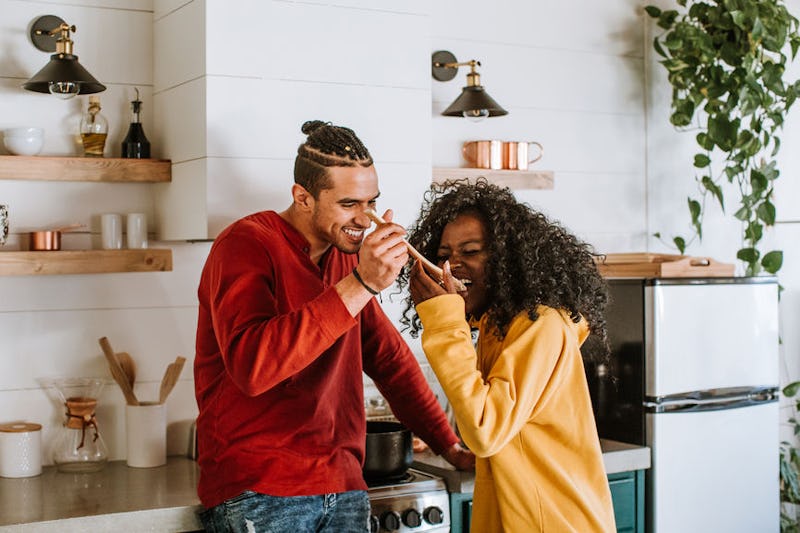 Leah Flores, Stocksy
First dates are nerve-wracking — that's something everyone can agree on, right? And in the age of internet dating, even though you can find out a lot of information about someone online, for better or worse, you never really get a feel for a person until you meet them. And of course, that is just the beginning! If you're unsure of the best way to get to know a potential lover from the get-go, there are some good questions to ask on the first date that might help to figure out if you're compatible.
"A simple question can lead to a conversation that takes its own course, with little effort from either of you," Dr. Carissa Coulston, a clinical psychologist, and the main author of relationship articles for The Eternity Rose, tells Bustle. For the sake of nurturing an initial conversation, keep things to the basics at first. "Helpful and neutral questions revolve around work or career interests, hobbies, sport, music and family — these are typically non-contentious."
And what you might want to avoid? Coulston says generally to steer to left of asking about ex relationships, or probing into any problems that your date might have briefly referred to, like issues they had with their parents when they were a child.
"Of course, these more personal topics can be discussed between the two of you down the track if your relationship should progress," Coulston says.
Ultimately, you can talk about whatever you want, and you might have much easier and deeper conversations on some first dates than on others. Below, a few experts shed light on some good initial questions that can give you a peak into a person.