6 Royal Wedding Cake Traditions That Harry & Meghan Are Probably Talking About Right Now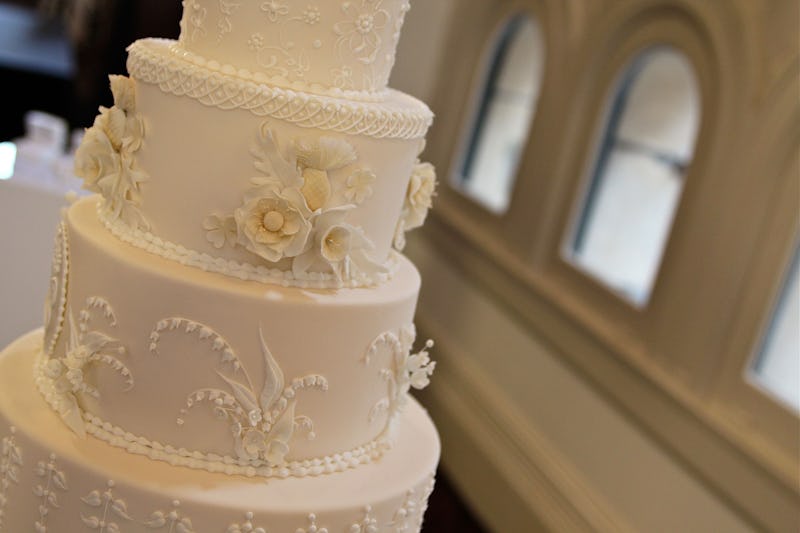 Getty Images / Mike Flokis / Stringer
As soon as Prince Harry and Meghan Markle officially announced their engagement, many of us had the same two thoughts: a) How can I score an invite? and b) What kind of cake will they serve at the royal wedding? When rumors swirled they were going with banana — and simultaneously saying, "Meh, no thanks," to one of the royal wedding cake traditions of having fruitcake — people were yet again reminded that this was no ordinary couple. They're ~modern~ and ~unique~ and can't be tamed. Traditional fruitcake, be damned! What other rules might they break for the May nuptials? And the plot thickens...
The flavor of the cake is but one of the royal wedding cake traditions we've seen throughout the generations. The royals are *big* on tradition, and the fine art of eating cake is steeped in history. From the flavor to the size to the number of cakes served, you can move from generation to generation and see some of the same patterns repeated. The Queen herself, Diana and Charles, William and Kate — they all followed at least a few royal rules.
While there's no telling what Harghan's (Marry's? what would be their celebrity hybrid name?) wedding cake will look like, if they follow royal tradition, here are six things we might end up seeing.