6 Signs You're Ready To Move In With Your Partner That Have Nothing To Do With Saving Money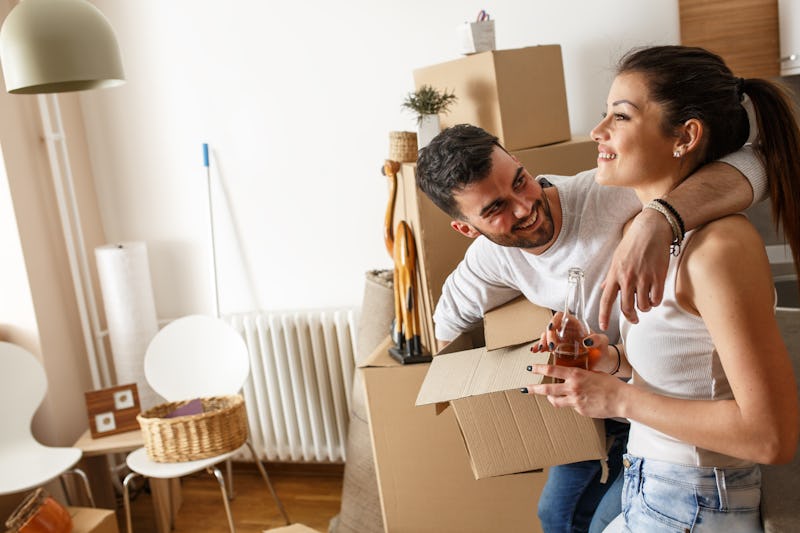 SolisImages/Fotolia
At some point, you may be ready to move in with your significant other — you're in love, spend 24/7 together, and, financially, it makes sense to pool your money together to pay one rent or mortgage, not two. But when's the right time to move in together? Can just one of these factors be reason enough to pack up your things and cosign a lease?
Mattress Clarity, the mattress review site, recently surveyed 2,000 American couples and found that finances were a primary factor when it comes to couples moving in together. They discovered that, overall, nearly half — 43 percent — of co-habiting couples moved in sooner than they'd intended to, citing financial reasons. In addition, one in 10 admitted that not only did they move in with their partner too soon, but they regretted it. After all, dating someone and spending a lot of time with them, then going home to your own space, is a lot different than sharing a space with them 24/7.
"If you've never lived with your partner before, you might end up having some unpleasant surprises," Joe Auer, founder of Mattress Clarity, said in a press release announcing the survey results. "This is when you find out how well house-trained they are! But usually people find their own rhythm and are willing to compromise and share. As long as they never go to bed on an argument!"
David Bennett, counselor and relationship expert with Double Trust Dating, agrees that moving in together is all about compromising. "Couples need to consider that moving in together is a big step, and doing it for the wrong reasons can not only make your day-to-day life stressful, but also ruin a relationship," he tells Bustle. "Many couples do it because of convenience, financial need, or because they feel like it's the next thing they are supposed to do, but these aren't good reasons to move your entire life together with another person."
As Bennett says, it's important to really think about the reasons you and your significant other want to move in together and not do so to try to solve a temporary fix, like money issues. All that said, if you're not part of the nearly 50 percent of couples moving in together due to financial reasons, you may wonder when the right time is to move in together. Mattress Clarity's survey found that 13 months is the magical number — however, this will vary from couple-to-couple, of course. Below, relationship experts weigh in on signs you're actually ready to move in together that have nothing to do with money.