7 Women Reveal The Money Issues That Ruined Their Relationship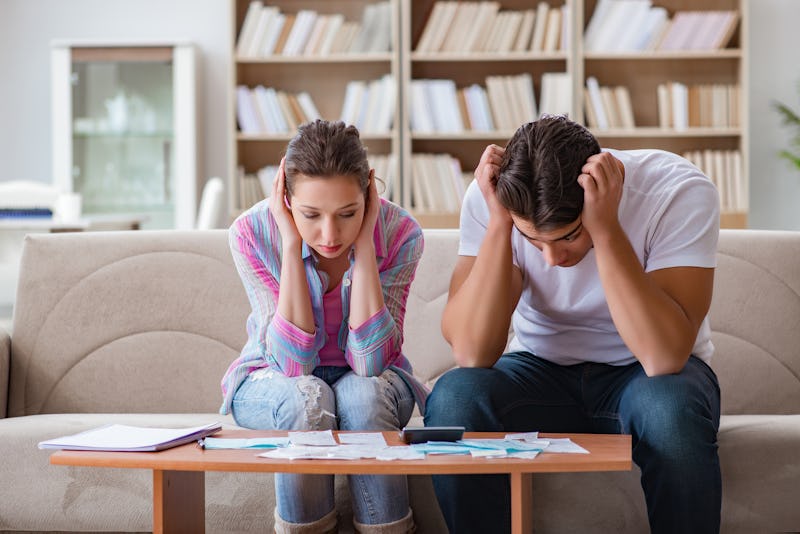 Fotolia
Money is a feminist issue — and yet, women are still reluctant to talk about it. According to a recent Bustle survey of more than 1,000 millennial women, more than 50 percent of people said they never discuss personal finances with friends, even though 28 percent reported feeling stressed out about money every single day. Bustle's Get Money series gets real about what millennial women are doing with their money, and why — because managing your finances should feel empowering, not intimidating.
Romantic relationships end for all kinds of reasons, and you may hear that money is a common topic of contention. What about couples whose relationships have ended over money? Whatever the case may be, money matters matter, and so many variables come into play: who pays for what, who pays the bills, how joint money is spent, etc. As time goes on, it's easy for money issues to take precedent in the relationship, and cause rifts along the way. But when are money problems too much for the relationship to bear?
"Communication about money can be difficult for couples," Relationship Specialist Jen Elmquist, MA, LMFT, and author of Relationship Reset: Secrets from a Couples Therapist That Will Revolutionize Your Love for a Lifetime tells Bustle. "Money and sex are two of the most uncomfortable topics for couples to discuss openly. For a variety of reasons partners may feel like it is taboo to talk about money, including: It invades their privacy, they feel embarrassed, they feel out of control, they don't feel educated enough, or they don't think there is a reason to talk about it. However, just like talking about your sexual health and history is critical for each partner, so is talking about your financial health and history. Without these conversations, assumptions are made, damaging secrets can be kept, and the freedom of being known and accepted is impossible to achieve. Betrayal from financial mismanagement can be traumatizing and have a similar effect on a relationship as infidelity. Recovering often requires the support of a couples therapist and a financial planner to make sure that, going forward, there is some accountability."
So what's a money issue worth breaking up over? Dating site EliteSingles did a survey, "Love and Money," of 581 men and women in its membership pool and discovered that different spending habits can be a dealbreaker. They found that 79 percent of men and 70 percent of women think that a partner sensible with their finances is preferable to a lavish spender. "In relationships, money can be an issue of contention," Zoe Coetzee, EliteSingles' in-house relationship psychologist and dating expert, tells Bustle. "Money can represent both power and security in relationships, making it a challenging, but necessary, issue for couples to navigate. Financial boundaries should be respected in relationships, and continually overstepping this line is the sign of an issue."
The gist? Talking about money with your partner is key to maintaining a healthy relationship, financially and otherwise. Below, seven women weigh in on how a money issue ended their relationship.