6 Ways Lindsay Lohan Channeled Lisa Vanderpump In The 'Lohan Beach Club' Premiere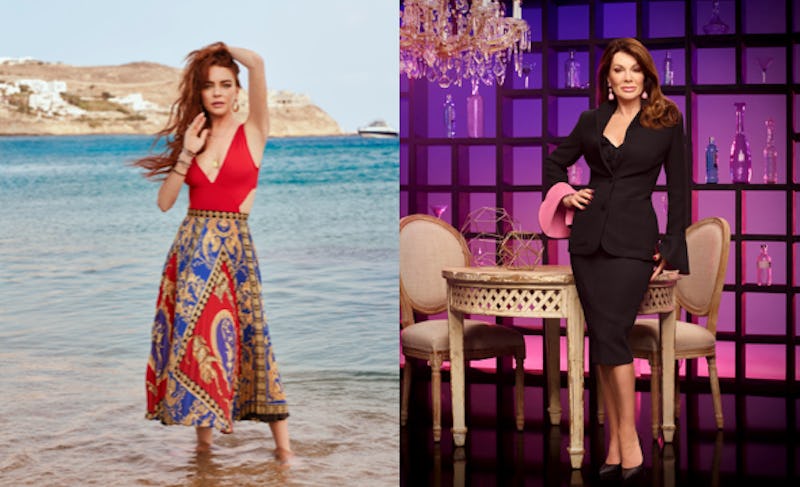 Courtesy MTV/Tommy Garcia/Bravo
Lindsay Lohan has come far from starring in movies like The Parent Trap and Mean Girls. She's now a globe-trotting entrepreneur, who opened up a club in Athens to much acclaim. Now, she's taking her hospitality business on the road with a beach club (aptly named Lohan Beach House) in Mykonos. Hello, can you smell the dynasty building? In fact, Lohan's rise to the top of the hospitality pops reminds me a lot of another restaurateur-turned-reality-star — Lisa Vanderpump of Real Housewives, Vanderpump Rules, SUR, Villa Blanca, and Tom Tom fame (the list could really keep going and going).
In fact, with Lohan Beach Club, the MTV series that's documenting Lohan's opening of her Mykonos branch, Lohan is really starting to resemble Vanderpump in more ways than one. Both have fiery-ish hair (Vanderpump's is more auburn, but still) to go with their fiery personalities, and they're definitely not going to take anything less than the best from their staff. These are not women who want to be made a fool of, and they'll let you know when you're in the wrong.
Vanderpump has always been big in the West Hollywood restaurant scene, but now, she's a full-fledged reality star, thanks to her times on Real Housewives Of Beverly Hills and, most importantly, Vanderpump Rules. Lohan must have been watching both shows, or maybe she's taking lessons, because if you love Lisa in Vanderpump Rules, you'll love LiLo in Lohan Beach Club.