7 Bridal Makeup Trends For 2017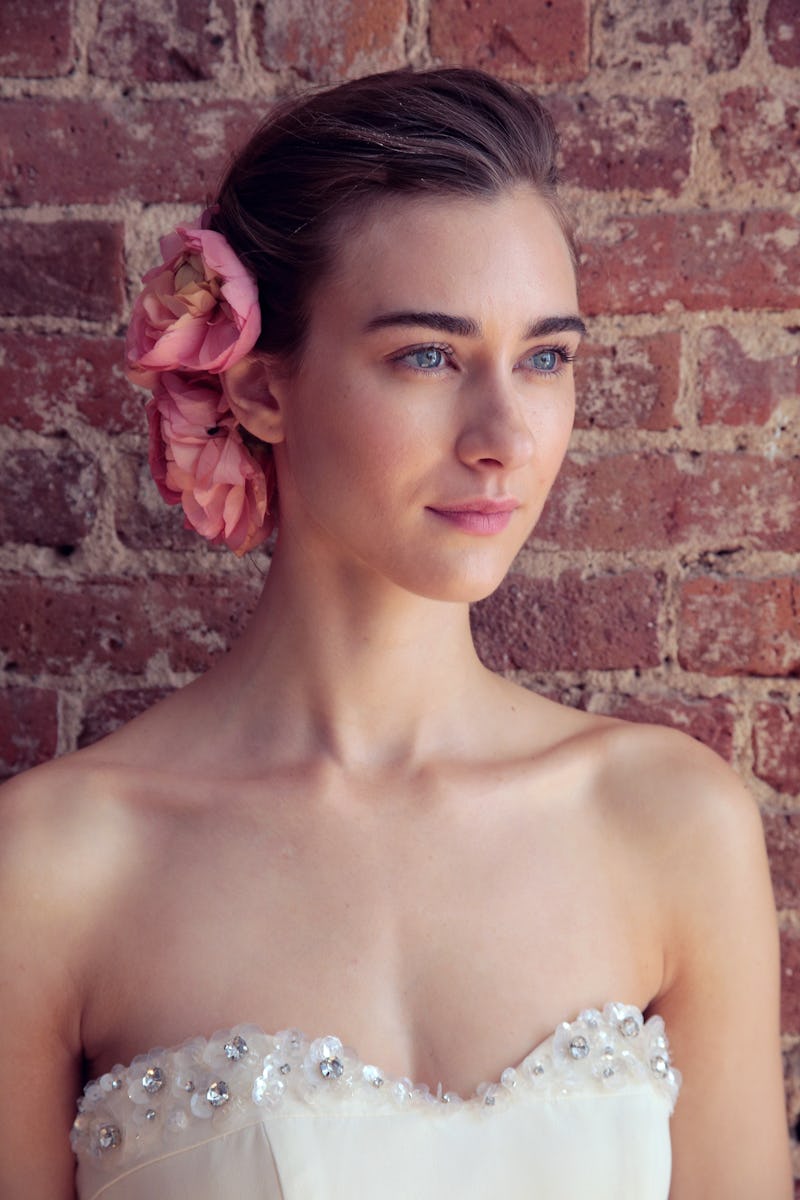 Randy Brooke/Getty Images Entertainment/Getty Images
An exciting day of your life is on the horizon and you're likely super pumped about your looming nuptials. Gals who like to stay ahead of the curve when it comes to beauty will want to discover the bridal makeup trends for 2017, because it always helps to know your options.
You've probably got your outfit by now and you may have had a trial run with your hairstylist, but makeup can be tricky. Much like your bridal hair, you may want your wedding makeup to differ from your everyday makeup, with it being such a special occasion. But, depending on the look you're going for, you might not want it to be too OTT either. It's important to contemplate how your overall appearance will reflect your personality, as well as how it ties in with the theme, if you have one. For instance, if you're having a gothic wedding, you'll probably want darker makeup with metallics, rather than lighter shades.
Honey Artists makeup artist Azra Red, tells Bustle over email, "I would not recommend brides to follow trends for makeup. I always sit down and talk to them first to understand their lifestyle and what their everyday makeup is. Once I have that, I suggest makeup that will be 'the most gorgeous' version of YOU on that day!"
However, if you're having a creative block, here's what's trending in the world of bridal makeup for 2017, so you have a jumping-off point.
1. Start With The Right Skin Care Routine For Your Skin
"I do stress about choosing [the] right skincare and following [a] routine at least 3 weeks prior to your wedding. Beautiful skin is always a trend, you will need less makeup and be able to show your inner glow," says Red. It all starts with healthy looking skin.
2. The Fresh Faced Look
Kristine Cruz, senior makeup artist at Antonio Prieto Salon says glowy skin and youthful eyebrows are trending makeup looks for brides this season. "Just think fresh face look. Minimalism is key," says Cruz over email.
3. The Classic Cat Eye
"For something a little punchy," says Cruz, "go with [a] classic cat eye look with lighter eyeshadow shades and liquid liner. Pair it up with semi matte lipstick with red/orange tones. Highlight for that added glow." Cat eye makeup is timeless and will suit a variety of bridal styles and wedding themes.
4. Dewy Skin
Skin Dew — Hydrating Essence Mist & Setting Spray, $44, Farmacy Beauty
"I do love dewy skin finish on all of my brides," says Red. She recommends Farmacy's Skin Dew and Eminence Strawberry Rhubarb Dermafoliant to her brides and also to brides who are doing their own makeup.
5. An Ethereal Eye Look
The ethereal bridal look is very trendy right now and can be seen in the use of floaty wedding gown fabrics like chiffon and tulle. If you desire a head-to-toe ethereal vibe, your makeup will need to stay in-keeping with the theme too. "To achieve the ethereal look on the eyes, skip the heavy eye lash extensions and go for the single eye lash extension for some length," Cruz advises.
6. Lash Trios
Ardell Individual Trios Eyelash Black Medium, $6, Amazon
On the same note, Red advises, "For brides that will do their own makeup I suggest using lash trios — so much easier then individual but looks more natural then strip lashes." It's probably best to leave the individual lashes to the MUAs, unless of course, you're a pro with falsies.
7. Monochromatic Pink Eyeshadow
Moondust Eyeshadow In "Cosmic," $21, Urban Decay
Cruz says monochromatic pink eyeshadow is a bridal trend to look out for this year. She recommends Urban Decay Moon Dust Eyeshadow or MAC's "Expensive Pink" eyeshadow to achieve the look.
Hopefully these 2017 bridal makeup trends will provide some beauty inspo for your big day. Congrats in advance to all those getting married this year!
Images: Courtesy Brands (3)