7 Ways To Dress Up As Your Fave Dating App This Halloween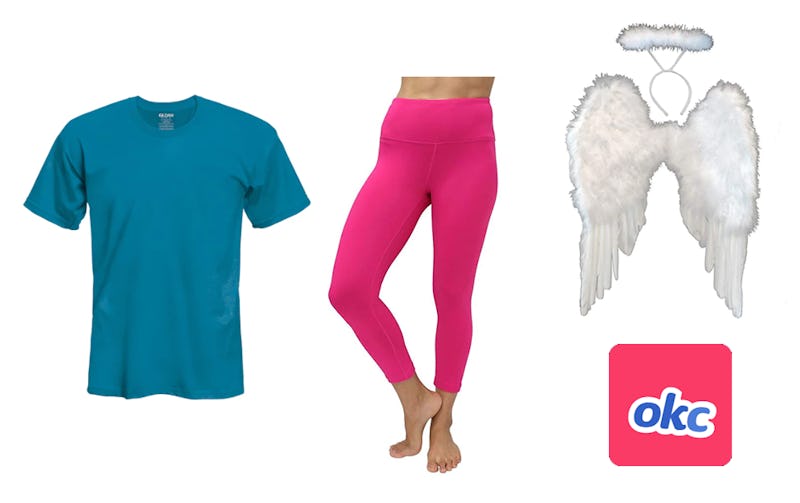 Michaels, Amazon, OkCupid
When it comes to Halloween, I think we can all agree that dressing up is one of the best parts of the holiday. It's right up there with candy, haunted houses, and carving pumpkins. Personally, I love how it encourages people to dig into their imagination. It gets even better, however, when there is a generous dose of humor. These easy dating app Halloween costumes are the perfect example. Not only are they hilariously relevant to this day and age, but they take little no effort to put together. Promise.
Obviously, a Halloween costume inspired by a dating app might not be everyone's cup of tea. But if you're all about filling out online profiles and swiping right (or left), you'll appreciate these costume ideas. I mean, is there anything more relevant in this day and age? (Well, avocado toast and millennial pink might take home that title, but that's beside the point.)
Simply put, using dating apps has become the norm. So, why not use them as inspiration for a punny Halloween costume? Each idea won't take much time to put together. That way, you can spend more time visiting haunted houses, carving pumpkins, and swiping left and right.
Read on for seven funny dating app costumes for Halloween.
1. PlentyOfFish
Gildan Short Sleeve Shirt in Sapphire , $3.99, Michaels | Fish Print Chiffon Shirt, $17.90, Forever 21
With a name like PlentyOfFish, you have endless opportunities for this costume. One idea is to wear a fish-printed button-down over a blue top. However, if you can't find clothing with fish patterns, you can just tape pictures of fish to a blue top.
Last but not least, print out the "POF" PlentyOfFish logo and attach it to your costume.
2. Bumble
Pinstriped Waffle Knit Top, $9.90, Forever 21 | Antenna Headband, $5.99, Spirit Halloween
If you're all about Bumble, you'll be glad to know that it's easy to make a Bumble-inspired costume. All you need is a black and white shirt and a bug antenna headband. Add the logo to your outfit with tape, hot glue, or safety pins.
3. Tinder
Gildan Short Sleeve Shirt in Safety Orange , $3.99, Michaels | Power Flex Capri in Honey Rose, $18.99, Amazon
To dress up as Tinder, you'll need a bright orange and pink ensemble. Extra points if you can find clothing with a combination of both colors. Print out the logo and you're all set.
4. OkCupid
White Feather Angel Wing & Halo Set, $20.97, Amazon | Gildan Short Sleeve Shirt in Sapphire , $3.99, Michaels | Power Flex Capri in Honey Rose, $18.99, Amazon
Another easy dating app costume idea is OkCupid. You'll need a bright blue shirt and pink pants or leggings. You can also switch the colors and wear a pink top and blue bottoms. Finally, top it off with angel wings and a halo for ultimate Cupid vibes.
5. Match
Gildan Short Sleeve Shirt in Sapphire , $3.99, Michaels
Match is really easy to re-create. Simply wear a blue shirt and attach the logo. For a more punny touch, add photos of matches, too.
6. Catfish
EBToys Cat Ears Headband, $8.99, Amazon | Adult Cozy Clownfish Costume, $44.99, Halloween Costumes
In the world of online dating apps, no one likes to be catfished. However, if you want to poke fun at the concept, dress up as a catfish. This is especially great if you love puns.
To do it, you'll need a pair of cat ears and a fish costume.
7. Ghosting
Womens Ghosted Costume, $24.99, Party City
If this costume doesn't scream "millennial", then I don't know what does. This otherwise basic white dress features a string of ignored texts, giving a nod to the unfortunate concept of ghosting. Needless to say, it's certainly a unique way to shed some humor on an otherwise annoying situation.