7 Funny Olive Garden Halloween Costume Ideas That Are Almost Better Than Endless Breadsticks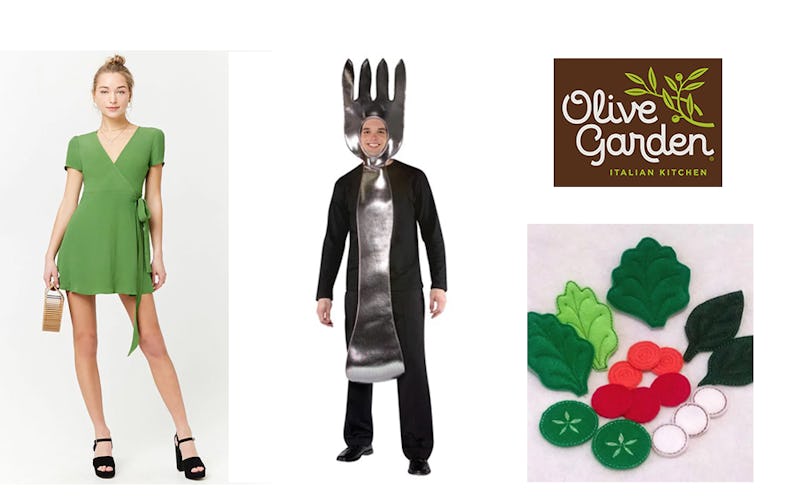 Forever 21; Halloween Costumes; Olive Garden; itsthesmallthings on Etsy
When you're a foodie with an appetite, Olive Garden is a dream come true. I mean, is there anything more beautiful than unlimited breadsticks? The endless soup, pasta, and salad deals certainly don't hurt, too. Honestly, the love is real, and I totally get it. And now that Halloween is around the corner, you have the perfect excuse to dress up in funny Olive Garden Halloween costumes. After all, there really isn't a better way to display your affection (and obsession) for the popular Italian restaurant.
There is just something so hilarious about food Halloween costumes, anyway. Everyone loves food, so you can be sure that it will be a hit on Halloween night. Food-themed outfits also double as awesome group Halloween costumes. For instance, an Olive Garden cook or server with a group of classic Olive Garden meals would be not only amazing, but unique, too.
Besides, Olive Garden is known for its creative and tasty meals. (They have a delicious lasagna dip, for crying out loud.) It only makes sense to make a costume that is just as creative. But whatever you do, make sure you print and add the logo to your outfit. Simply tape, pin, or stitch it on. By doing so, you can emphasize your Olive Garden-inspired look. It's like the icing on the cake (or the meatballs on the spaghetti.)
Need some delicious inspiration? Check out this list of gram-worthy Olive Garden Halloween costumes.
1. Breadsticks
Long T-Shirt in Beige, $9.99, H&M | PZLE Warm Winter Beanie, $3.99, Amazon
Do you go to Olive Garden just for the endless breadsticks? If your stomach is grumbling in approval, consider dressing up as an actual breadstick. All you need is a beige shirt and matching beanie. You can also draw add a printout of the Olive Garden logo.
To emphasize your look, carry around a baguette. (You know, just in case you get hungry throughout the night.)
2. Spaghetti
Gildan Short Sleeve Shirt in Red, $3.99, Michaels | Bernat Baby Blanket Yarn in Yellow, $6.12, Amazon | 1" Pom Poms by Creatology, $1.30, Michaels
When it comes to funny Olive Garden costumes, you can't go wrong with a spaghetti-inspired outfit. Just wear a red shirt or dress for an easy costume. Wrap yourself in thick yellow "spaghetti" yarn and hot glue pom pom "meatballs."
Alternatively, you can add red paint "sauce" to the yellow yarn.
3. Baked Ziti
Gildan Short Sleeve Shirt in Red, $3.99, Michaels | Craft Rolls 24-Pack, $12.99, Amazon | 1" Pom Poms by Creatology, $1.30, Michaels
Of course, you also can't go wrong with baked ziti at Olive Garden. Much like spaghetti, you'll need a red shirt and pom pom meatballs. But instead of chunky yellow yarn, use empty toilet paper tubes. Paint them a light yellow color so they look like pasta. Finally, hot glue them to your shirt and you're all done.
4. Salad
Surplice Wrap Dress in Green, $19.99, Forever 21 | Felt Play Food, $9, itsthesmallthings on Etsy | Adult Fork Costume, $29.99, Halloween Costumes
If you're all about the unlimited salad at Olive Garden, consider dressing up as a salad. You can make a simple costume by adding vegetable-shaped felt shapes to a green dress. If you're the crafty type, use paint or thread to add details.
To make it even funnier, finish off the look with a fork costume.
5. Olive Garden
Rubie's Vine and Leaves Costume Accessory, $5.75, Amazon | Bloem Aqua Rite Watering Can, $9.63, Amazon
Pun lovers, this one is for you. To literally dress up as Olive Garden, wear a garden-inspired outfit. You can wrap faux leaves around a green shirt or wear a dress with botanical prints. Next, wear a name tag that says "Olive." It's the perfect easy pun costume for fans of Olive Garden.
6. Olive Garden Cook
Adult Chef Costume, $29.99, Halloween Costumes
An Olive Garden cook costume is sweet and simple to make. To do it, wear a chef's uniform and print out the Olive Garden logo. Tape or pin it to the jacket and you're ready to party.
This costume works best in group outfits. For example, if one person dresses up a cook, the rest of the crew can dress up as salad, breadsticks, and pasta.
7. Olive Garden Server
Arizona Short-Sleeve Polo Shirt in Black, $24, JCPenney | Black Waist Apron, $5.99, Amazon | Plus Size SONOMA Curvy Bootcut Jeans, $24.99, Kohl's | Faux Suede Pointed Ballet Flats, $12.90, Forever 21
You can also dress up as an Olive Garden server. Like the cook costume, this one is easy. You'll need a black button down shirt and a black waist apron. Pair it with black paints and shoes. Print out an Olive Garden logo and attach it to your shirt.
When paired with the food costumes on this list, an Olive Garden server will look right at home.