7 Old Wives' Tales That Won't Actually Help Your Cold Go Away Faster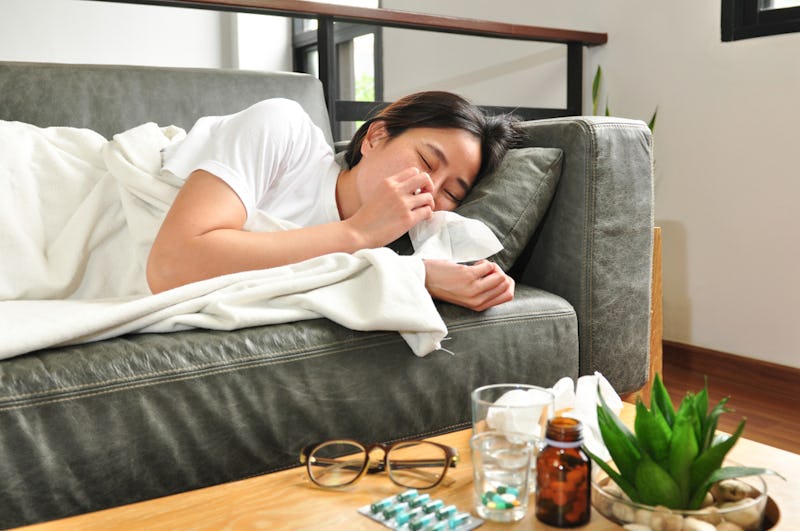 baitong333/Shutterstock
There's a lot of old-fashioned advice out there focusing on ways to help your cold go away faster. These tips and tricks get passed down from generation to generation, in an effort to speed up the healing process. But unfortunately, not every old wives' tale actually works, or makes much of a difference when it comes to feeling better.
"There's no question that prior to the availability of what we consider modern medicine, people tried all sorts of things to feel better when they were sick," Ashley Wood, RN, BSN, a registered nurse and contributor to Demystifying Your Health, LLC, tells Bustle. "However, most of these things have been found to not have any real impact on improving your health."
Generally, a typical head cold will last about seven to 10 days, no matter what you do. But you can manage your symptoms by getting lots of rest, eating nutrient-rich foods, and drinking plenty of water, Wood says, while the virus runs its course.
There is, however, one old wives' tale in this genre that may have some truth to it. And that's eating chicken soup. "Most of the time, chicken soup is made with pepper, onion, and garlic, which can ease the inflammation caused by the infection," Wood says. "An amino acid in chicken, cysteine, is known for thinning mucus. Typically, the soup also has vegetables in it, which are healthy and nutritious. So, while chicken soup might not cure you, it might ease your symptoms."
Read on below for some old wives' tales that may not make much of a difference when it comes to getting over a cold, according to experts.