Here's How To Master The Art Of Outercourse, According To Sex Experts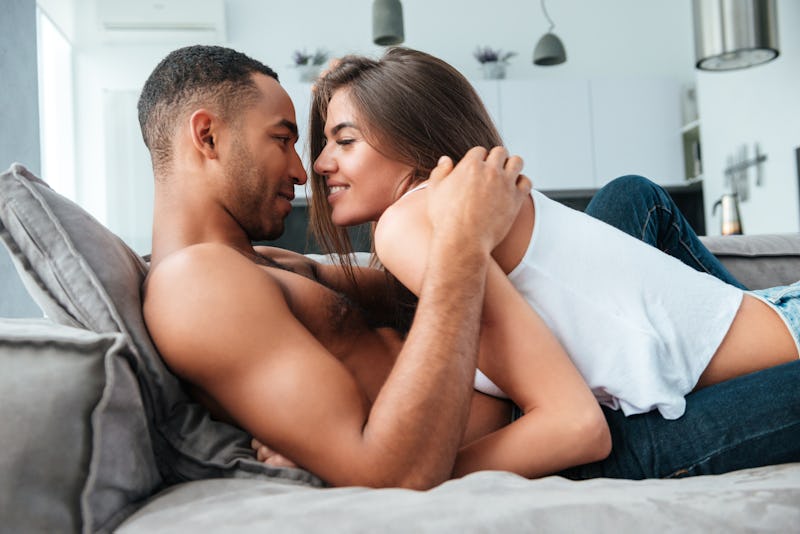 Drobot Dean/Fotolia
When it comes to sex, people tend to focus on intercourse. But for most women, intercourse usually isn't enough to reach orgasm. So, instead, it's time to shift the focus to outercourse. You might be wondering what is outercourse? Well, it's a term that encompasses everything but penetration, and it's about to make your sex life a lot better.
Debby Herbenick, Director of the Center for Sexual Health Promotion at The University of Indiana, recently surveyed 1,055 cisgender, mostly heterosexual women ages 18 to 94 to discover what a woman really needs to orgasm. According to the study, only 18.4 percent of women can orgasm strictly from intercourse. That's less than one-fifth of us! So, the act that we can't stop talking about, intercourse, is failing actually failing us.
While outercourse involves things such as vibrators and massages, the most important part of outercourse is clitoral stimulation. The study reported that 36 percent of women need clitoral stimulation in order to have an orgasm and another 36 percent said, while not necessary, it significantly enhanced the experience. Outercourse is definitely a more inclusive way to approach sex too, with both partners having greater opportunity to orgasm.
"In my book I use this quote: 'Instead of intercourse being the main course, it is now merely another an a la carte in a satisfying sexual experience'," Dr. Dawn Michael, author of The Ultimate Intimacy Guide For Passionate People, tells Bustle. "When couples can enjoy all of the wonderful sexual experiences that have nothing to do with intercourse it can also create deeper intimacy as well as add spice to the relationship."
The key is to discover what works for you. Check out these different outercourse techniques to try to have a more satisfying, intimacy-building sexual experience.
1. Change Up How you Kiss
Yes, even kissing counts as outercourse, and it's the perfect opportunity to throw it back to high school-style makeout sessions. The possibilities here are endless. "In my book I give exercises on kissing and how to spend time passionately kissing, using the tongue to explore the inner lips, biting and sucking on the lips, and taking turns kissing each other the way each person wants to be kissed," Dr. Michael says.
2. Touch Each Other
"Another exercise is touching, how to add sensual touching to the overall sexual experience, taking turn trying different types of touch and this can be done with the lips and the body as well," says Dr. Michael. "Explore each other's body as a new adventure touching, kissing and rubbing it all over." Of course, a major part of outercourse is actually touching each other. Take the time to move around each other's bodies and see what you find.
"Different types of touch offer different sensations; sex toys and vibes can be a pleasurable addition to your repertoire," Stefani Threadgill, sex therapist and sexologist, tells Bustle.
3. Use Your Words
"Use words to entice and seduce each other while touching, activating the mind as well, add in sex toys and role play to enhance the sexual experience," Dr. Michael says.
Communication is also key to getting what you want in outercourse. "Communicate your wants and needs, preferences and pleasures," Threadgill says. "Communication (verbal and nonverbal) can be sexy and many find flirtation, erotic talk, and role play erotic."
4. Hop In The Shower
"Women need stimulation, focus and a relaxed state in order to orgasm," Threadgill says. "Massage, especially on the inner thighs, and bathing or showering together can help you get there." Relaxation is the magic key here, and where are you more relaxed than in the shower?
5. Breathe Together
"Another exercise that I recommend in the book is breathing together, using the breath to gain closeness and relax the body," Dr. Michael says. If you're feeling tense, breathing can be a great way to sink into the moment.
6. Awaken The Senses
"Explore every inch of each others' bodies with activating at least one other sense," Amy Levine, sex coach and founder of Ignite Your Pleasure, tells Bustle. "Give or get a massage with the recipient wearing a blindfold. Listen to music when you're making out. Feed each other chocolate covered strawberries gazing into each other's eyes."
This type of practice forces you to stay in the moment and it can also create another level of intimacy between you two.
7. Find Each Other's Erogenous Zones
"I encourage patients to slow down and explore each other's bodies; discover new erogenous zones," Threadgill says. "Many of my female patients say that their partner(s) go directly to the nipples, clitoris, and/or anus in order to please her and that they prefer a longer warm-up." Each person is different so take the time to determine what works best for your partner.
The most important thing, whether it's intercourse, outercourse, or any sexual act, is to be comfortable and enjoy what you're doing.