7 Signs You're Doing All Of The Emotional Labor In Your Relationship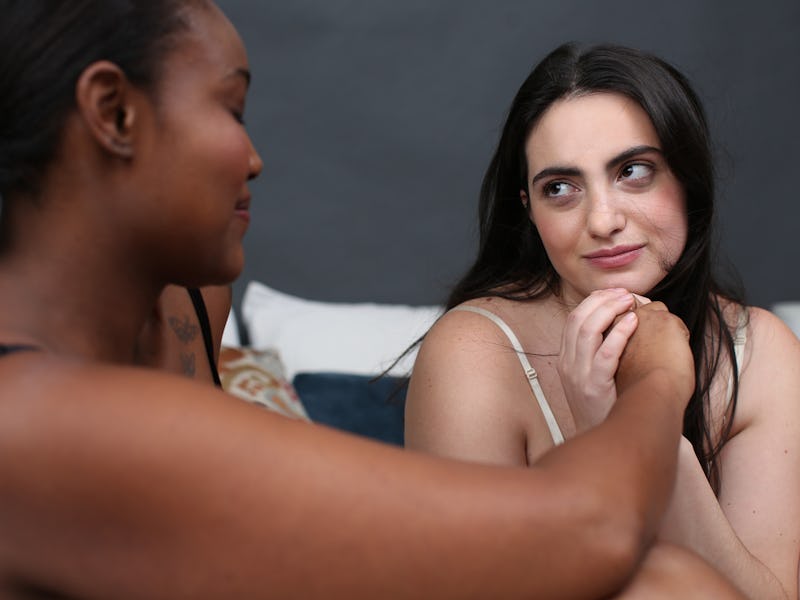 Ashley Batz/Bustle
Doing the emotional labor in a relationship is exhausting — and you might not even realize you're doing it. Basically, emotional labor is the time and energy that you spend. It can be in any setting — at work, with family, with friends, or in a romantic relationship. In a relationship it may involve processing your own feelings, keeping your partner up to date on where you're at, and remembering that work deadline they have and forgiving them for being stressed. It's realizing that you need more toilet paper, even when you're anxious and running late and writing out their mother's birthday card.
In heterosexual relationships, it's often thought that women do the lion's share of the emotional labor. "I think that women are often the ones doing the emotional labor in a relationship," relationship therapist Aimee Hartstein, LCSW tells Bustle. "This can be very draining on women and isn't good for the men either. Men need to learn to be more responsible for their emotional life and women need to learn to be less responsible for their emotional lives!"
But it doesn't matter what your orientation or your gender is. There's always the chance that one of you ends up doing more of the emotional labor than the other. And it's not fair on either of you, so if you think that you're doing more than your fair share, try to talk to them about it.
"If your partner walks around angry and brooding, [it's] up to them to be a grown up, identify their feelings, and share them with you," Hartsein says. "Often, if you stop the work of coaxing [feelings] out of them, they be more likely to have to do the work of identifying and sharing. You can also point out this dynamic to them in the moment. Ask why it took eight times for them to share with you what's on their mind and why they didn't think to just open up and talk when something came up for them."
The thing is, women are so frequently given emotional labor to do — or we take it on ourselves — that we might not even realize it's happening. Here are the signs your partner isn't pulling their weight emotionally in your relationship.