7 Subtle Things Your Partner May Do If They Have One Foot Out The Door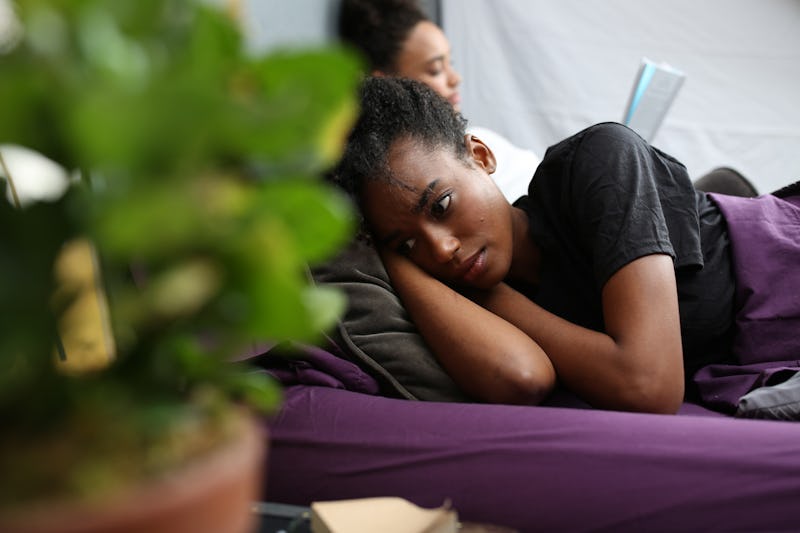 Ashley Batz/Bustle
Knowing if your partner is being distant and may have one foot out the door can be pretty obvious. For instance, they might stop planning for the future with you or even brush it off when you try to bring up the subject at all. But according to experts, there are some smaller things your partner will do to indicate that they may be checking out.
"There are some seemingly insignificant things that actually reveal a partner is truly unhappy and is even considering leaving the relationship," relatioship counselor, Kerri-Anne Brown, LMHC, tells Bustle.
For instance, if your partner stops showing interest in resolving problems in the relationship that's a red flag that shouldn't be ignored. Although it's easier to have your partner agree with you on everything, conflict is sometimes necessary for relationship growth. "It's healthy for couples to discuss problems and work together to resolve them," she says. But when a partner stops showing interest in working through conflicts, Brown says it might be an indicator that they no longer have faith in the relationship or no longer see the value in investing time and energy in having difficult conversations.
Sometimes the signs that someone is slowly checking out of the relationship can be easy to miss. So here are some other seemingly insignificant things your partner might do that signal they have one foot out the door, according to experts.