7 Things Your Partner Is Doing Now That Means They May Eventually Fall Out Of Love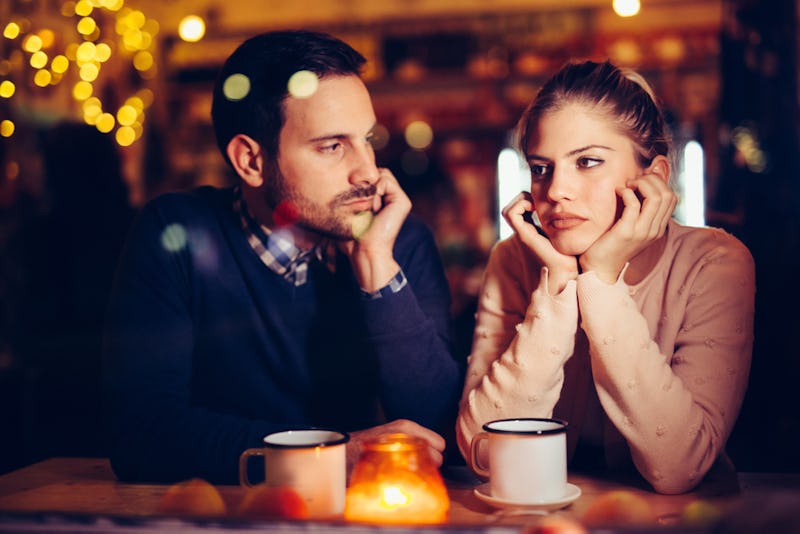 nd3000/Shutterstock
Unfortunately, we can't really predict whether a relationship will last or if it's doomed to fail. But there are signs you can look out for if you already have reason to believe your partner is growing distant. According to experts, pay attention to your partner's behaviors — there are some things your partner may be doing now that indicates they may fall out of love eventually.
As Brian Jory, PhD, author of Cupid On Trial — What We Learn About Love When Loving Gets Tough, tells Bustle, people who tend to fall out of love have a propensity for risk-taking.
"Genetic research has found that some of us are wired for risk and exploration while others lean in the direction of security, predictability and safety," Dr. Jory says. "Risk-takers often view relationships as adventures. They'll want to see how far they can take a relationship, push a relationship to the brink and then put it away [...when they've] grown bored with when it doesn't live up to their expectations." Of course this isn't the case for everyone, but something to take note of.
If you have reason to worry that things may sour quickly, one way to tell is to learn about their past relationship habits. "Learning of past relationship habits like falling in and out of love quickly may be a worrisome sign that a relationship won't last," psychotherapist and relationship expert, Laura Dabney, M.D., tells Bustle. "But this behavior alone is not a dealbreaker."
However, it can be a problem if it's linked to other bad habits. So here are some things your partner is doing now that means they may eventually fall out of love, according to experts,