8 Clues That Tia Will Be The Next Bachelorette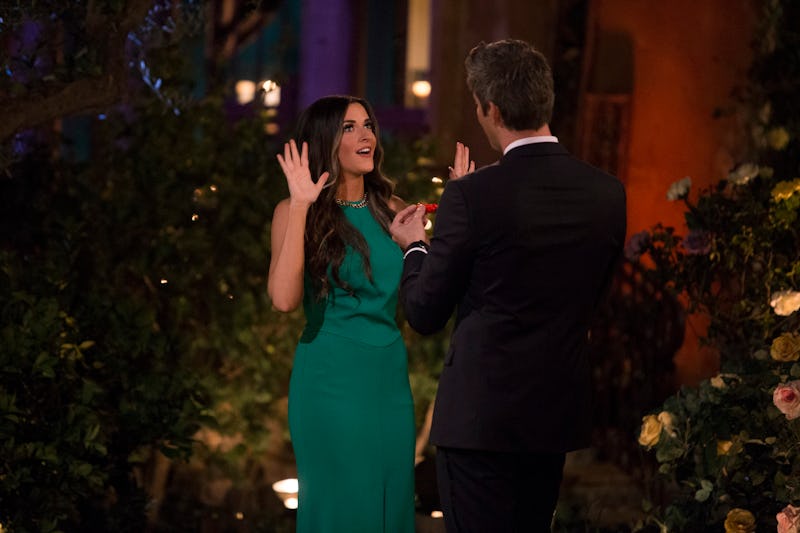 ABC/Paul Hebert
In all honesty, it is a little tough to get into this season of The Bachelor. At this point, true fans are just looking ahead to the next season of The Bachelorette and wondering who will take the lead. There hasn't been an official announcement, but there are plenty of clues that Tia Booth could be the next Bachelorette star.
It really just feels like Tia is the obvious choice for the role. Sure, Kendall Long, Becca Kufrin, and Lauren Burnham are still on the show and vying for that final rose from Arie Luyendyk Jr., so it could be one of them. But, unless something major happens toward the end, all signs point to Tia and her big personality. Aside from those three, out of all the women who left the show before hometown dates, it would just make the most sense for Tia to get this opportunity.
Watching the season, it even felt like Tia was getting a "Bachelorette edit." Yes, she did seem to have a genuine interest and connection with Arie, but it really has felt like everything we have seen was just a way to set her up for her next gig in the Bachelor franchise. There are plenty of indications that Tia is the woman for the job.
She's In The Top 4 This Season
Every single Bachelorette lead has been in the Top 4 contestants from her Bachelor Season. Tia got out just in time. She got enough exposure for viewers to get attached to her, but she left the show early enough that she will have time to "move on" after her breakup with Arie.
She Had Memorable Moments In Each Episode
Tia got consistent camera time for the whole season. She had a hilarious limo entrance with her "little wiener" joke, she had in-the-moment interviews during every date, and the camera constantly panned to her face for reactions. There was not one time where anyone wondered what Tia was thinking because she got time in the spotlight during every single episode.
She Got Eliminated During The Ceremony With The Most Air Time
Usually the rose ceremony starts at around 9:50 p.m. — as in 10 minutes before the episode ends. There are a couple dramatic pauses here and there and some commentary from the ladies in between roses, but Tia's final rose ceremony was nearly a half hour. So, of course, this was the ceremony that drew in viewers the most and garnered the strongest emotional response. Doesn't that seem like the perfect launch point for a new Bachelorette lead? Yes, it does.
She Is Best Friends With Raven
Tia's BFF, Bachelor alum Raven Gates, appeared during her introduction video at the beginning of the season. Bachelor Nation loves Raven, but Raven is in a relationship with Adam Gottschalk after they both appeared Bachelor in Paradise Season 4, so Raven cannot be the Bachelorette herself. Now, Raven can appear on Tia's season to send her off with some love at the beginning and even show up for a group date to share her input like she did on Rachel Lindsay's season.
She Is Interested In The Role
In an interview with The Hollywood Reporter, Tia admitted, "I would definitely consider coming back to be Bachelorette." She also shared, "I learned to be more vocal and express my feelings and thoughts. I've always put other people first and I learned to focus. I love this crew and all these amazing people."
And, in an interview with Entertainment Tonight, Tia said, "Thirty years from now, I don't want to say, 'Well, I turned that down because I was scared or nervous.'"
She Has The Most Instagram Followers
Out of all of the contestants on Arie's Bachelor Season, Tia has the most followers on Instagram. As of this moment, she has 288,000 followers. Right behind Tia with the follower count is fifth place contestant Bekah Martinez with 232,000 followers. As for the final three contestants, Becca has 187,000 followers, Lauren has 138,000, and Kendall has 110,000. Clearly, people want to see more of Tia, so why not let her star in her own season?
She Has The Bachelorette Seal Of Approval
If Tia became the Bachelorette, she would have plenty of support from the leads of the past. JoJo Fletcher, Kaitlyn Bristowe, and Desiree Hartsock Siegried follow Tia on Instagram. And, Rachel is close with Tia's best friend Raven after appearing on Nick Viall's Bachelor season together, so it's not surprising that Rachel tweeted, "I already favor Tia due to nepotism, duh plus she is just a super cool chick."
She Has A Built-In Story Line
Aside from getting sent home after the rose ceremony that got the most TV time, Tia had the most emotional exit so far. Most likely, there are more tears to come as The Bachelor winds down, but it was just so tough to watch Tia choked up with tears and not want to give her a hug. She questioned herself and wondered why she still hasn't found love — i.e. the perfect setup to be Bachelorette. She asked, "What did I do wrong?" at the end and Arie told her, "Nothing."
In fact, Tia did it all right. She got consistent screen time. She made it far enough on Arie's season to resonate with viewers, but not too far that it would be too short to bounce back from heartbreak. Fans are on board and she has past Bachelorettes behind her. If Tia isn't the Bachelorete, that just might be more shocking than when Arie sent her home after the hometown dates.
This article was originally published on