9 Dog Breeds For Committed Couples Who Want A Furry Friend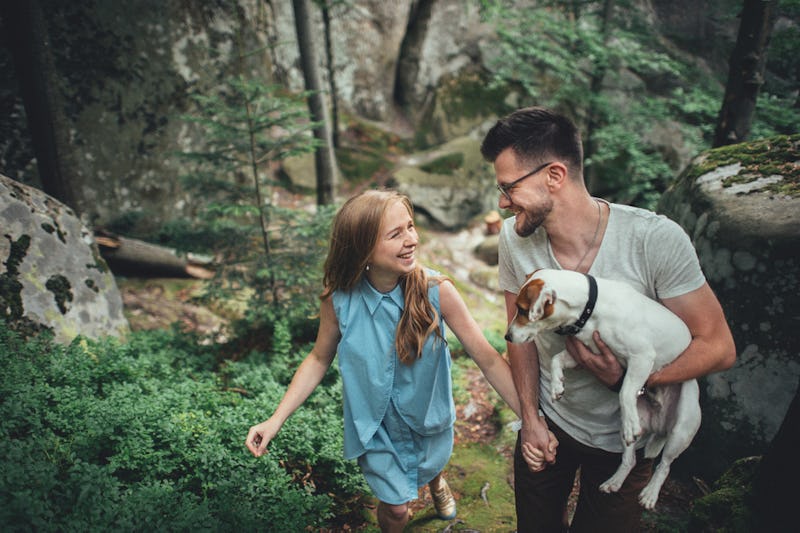 Ladanivskyy Oleksandr/Shutterstock
After moving in together or making a serious commitment to each other, it's not uncommon to think about bringing another little creature into the mix. While it's a lot of responsibility, now that the two of you have gotten serious, it's a perfect time to make this other long-term commitment. But the best dog breeds for couples do indeed have to do with your lifestyle and the kind of time you have to devote to a furry friend.
"[Making a commitment to your partner] and bringing a dog into your family are both major life changes," Lauren McDevitt, co-founder of Good Dog, tells Bustle. "When you're thinking of getting a dog, it's important to consider if you're truly ready to make such a big commitment in time and energy."
It will be different for everyone, she says, but if you're still adjusting to changes and have a lot on your plate, you might want to give yourself a little time before jumping into pup parenthood, McDevitt says. That doesn't mean not doing it of course, it just means taking a beat to consider a few things!
Ask yourselves how much time you have to dedicate to a potential puppy or dog, how much space you have, if you'll be moving or changing careers soon, your budget for vet bills and care, and if you're planning on having children, she says. Then move on from there, and consider just what kind of new pal can fit into your life.
Here are some breeds you might want to check out if you and your partner are ready for a new pooch!