9 Foods That Can Help With Hormonal Imbalances, According To Experts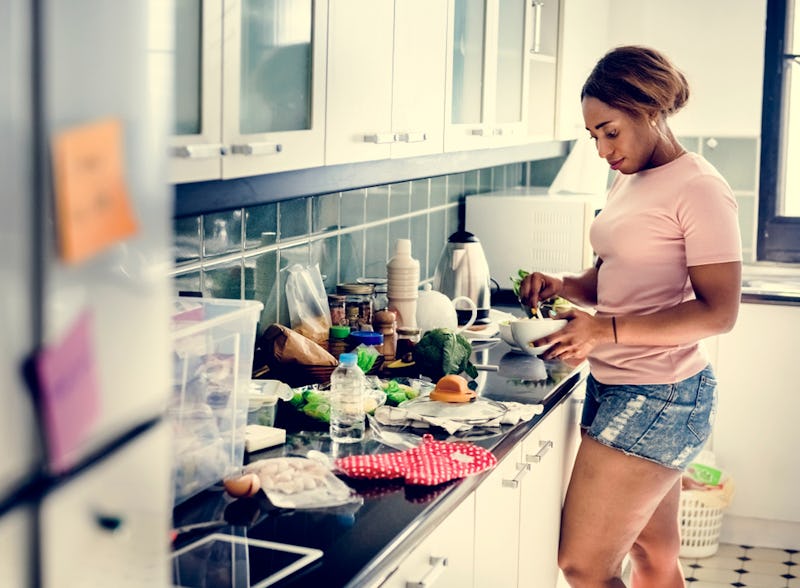 Rawpixel/Shutterstock
Whether it's acne, fatigue, or some serious PMS that you're dealing with, you might have suspected, or been told, that your health concerns have to do with some out of whack hormones. While the best way to deal with this might be with a healthcare professional of some kind, incorporating some foods that balance your hormones is a great way to keep it all in check.
As wellness coach Betsy Leahy tells Bustle, her overall advice for optimal hormone health is to incorporate more plant-based foods into your lifestyle during this time. But she also says that there are certain foods to think about avoiding or moderating when it comes to hormone happiness.
"The liver plays a role in hormone health and some foods can overload the liver, thereby affecting hormones," Leahy says. "Reducing trans-fats, refined sugars as well as to moderate alcohol and caffeine consumption will help"
And finally, she says, although it is not a food, stress is something people should consider big-time, first and foremost, in fact, when the hormones are in question. Stress really affects those cortisol levels, and can oftentimes lead to eating and drinking more types of foods that can cause hormone disruption, she says. Incorporating stress reduction techniques like meditation, exercise, and measured breathing are also an important addition to overall balance.
Take some tips from the pros on what foods to include in your daily meals for optimal hormone health.