9 Holiday Date Ideas That Aren't *That* Cheesy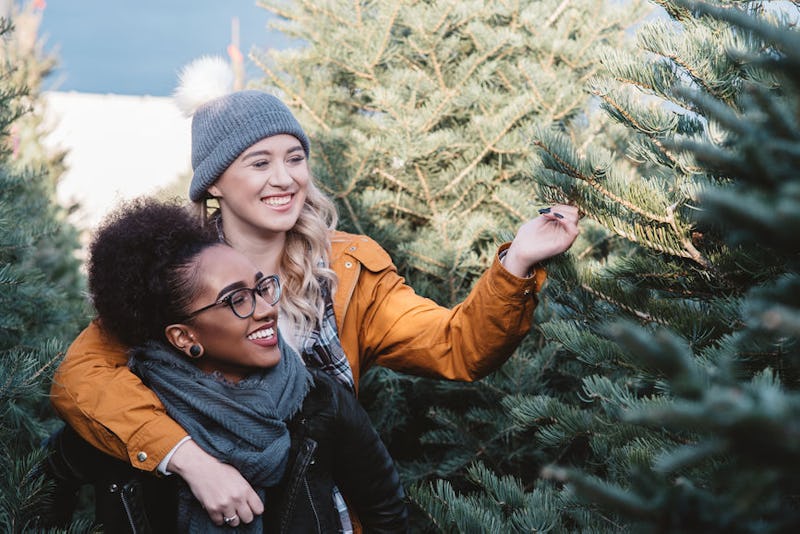 Chelsea Victoria/Stocksy
Spending time with your partner around the holidays is important, but it can feel like all of the holiday date ideas out there are cheesy AF. If you're not into the glittering lights and cozy fire feeling of it all, you may want to go into full hibernation mode — but it's important to fight that urge. "I have seen way too many relationships head into the holidays strong, and come out of them as if they had never met," Nora Dekeyser, a matchmaker at personalized dating and matchmaking service, Three Day Rule, tells Bustle. So it's important to make some time together, even if building a snowman and frolicking in a winter wonderland isn't really your thing.
The truth is, almost all holiday dates seem a little bit cheesy — with snow, scarves, and hot cocoa at every turn, it's hard not to have a little cheese-factor. Even if you live in a warmer climate, you're still going to have holiday lights and saccharine advertisements to contend with — so there really is cheese everywhere you look. If your inner cynic isn't ready for a cheesy holiday romance — or you just want a break from it all — it is possible to arrange a date that's not cheesy. Well, that's not that cheesy. You just have to choose your locations — and your activities — carefully.
Here are nine date ideas that aren't that cheesy, but holiday dating doesn't have to be all snow angels and whipped cream.