9 Kinds Of Therapy That Incorporate Both Mind & Body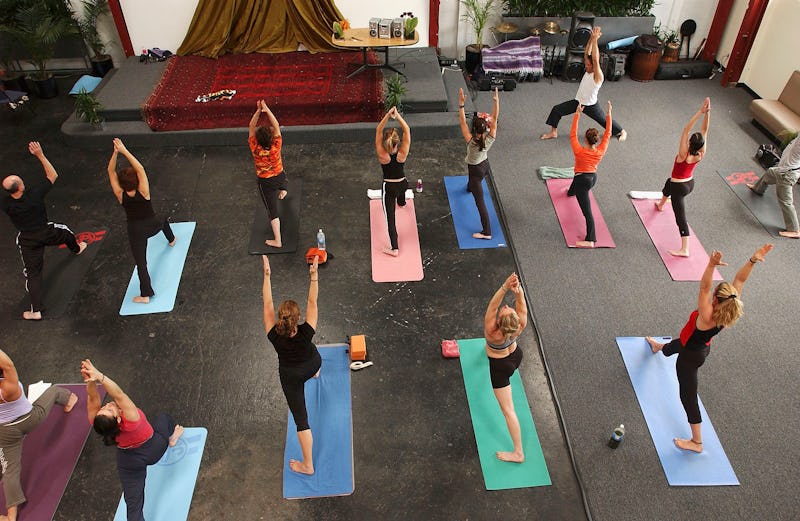 Amanda Edwards/Getty Images Entertainment/Getty Images
Most of the time, when you think of therapy, you likely think of talk therapy — where a counselor and a patient sit down to discuss what's going on with the patient's mental health. While this mode of therapy, sometimes combined with medication, can be super helpful for many people who live with mental illness, it doesn't work for everyone; one 2015 study in the journal PLOS One found that found talk therapy is 25 percent less effective that previous research had stated. Because of this, some people are starting to turn to alternative therapies, like mind-body therapies, to help them manage their mental health.
In essence, mind-body therapies attempt to incorporate movement into traditional psychotherapy, though they are not a substitute for traditional therapy and medication. According to a recent review of the use of mind-body therapies for teens with anxiety, published in the journal The Nurse Practitioner, "Mind-body therapies encompass self-regulation and positive thinking [...] to help promote self-control, physical health, and emotional well-being."
Mental health disorders are accompanied by a wide array of symptoms — including a handful of physical ones. Many researchers are beginning to believe disorders like depression are caused in part by inflammation, and should be treated like any other physical illness. Meaning, utilizing movement and engaging your body in therapy can have a positive impact on your mental health and recovery. And while a mind-body therapy isn't necessarily a replacement for other kinds of therapy, you can ask your doctor if they think it might be beneficial to you. From yoga to biofeedback, here are nine therapies that incorporate mind and body — and how they can potentially help you.