9 Partner Toys That Are Perfect For Quickies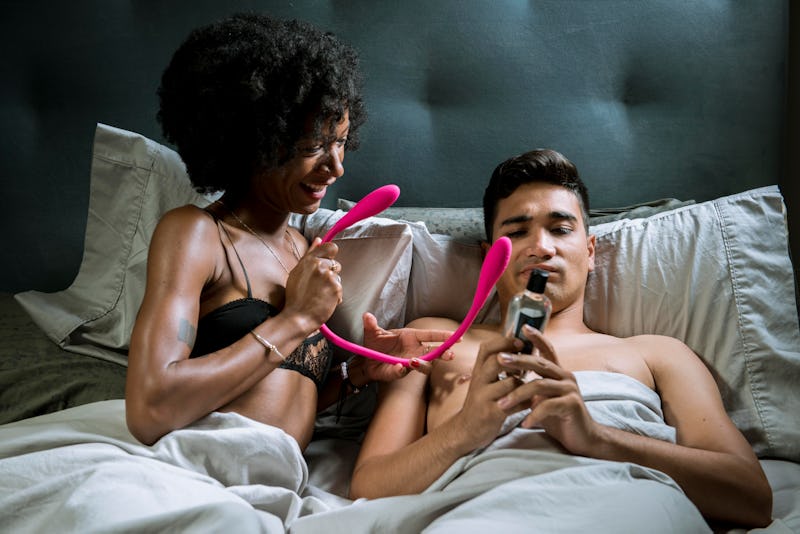 BDG Media, Inc.
As much fun as sex is, sometimes there simply aren't enough hours in the day to have the long, drawn-out sex you desire. For the days when you and your partner are tight on time, figuring out how to have amazing quickie sex is key. Even if your partner knows all the right buttons to press to get you off in a snap, adding some great couples sex toys to the mix is an easy way to ensure that you both reach orgasm — even if you only have five minutes to do the deed. And it's not just the powerful vibrations that enhance your pleasure: if you don't typically use them, incorporating sex toys during a quickie will feel like a super hot new adventure for both of you.
"When you try new things together you are creating shared experiences that are new and exciting," dating coach and licensed marriage and family therapist Pella Weisman tells Bustle. "That shared excitement is a way to have both closeness and stimulation, which is a great combination for sparking things... up."
If you're looking to have some hasty (but still hot as hell) sex, here are nine sex toys to try out — they'll leave you feeling so good that you'll no longer be irritated by whatever upcoming obligation forced you to have quickie sex in the first place.
We-Vibe Sync, $150, Amazon
The secret to this sex toy? It's like two vibrators in one: the top of the toy rests on and stimulates the clitoris, while the slimmer bottom half inserts into the vagina and delivers some intense vibrations to both the G-spot as well as the penis (which can easily slip in underneath the Sync). The variety of pulse patterns and speeds — which you can adjust via a handy-dandy app on your phone — are just an added bonus.
Pulse III Duo, $149, Amazon
Although the original Pulse was touted as the World's First Guybrator, the Pulse III Duo is fun for both partners, and can help quickie sex be even swifter. It's a foreplay-focused toy with vibrators on top and bottom: once his penis is inserted, the guy can control the vibrations he feels via the device. Meanwhile, the woman (either on top or in missionary) can feel the vibrations from the other side of the toy — and can adjust those independently, via remote control.
LELO Tor 2, $119, Amazon
This sleek-looking, rechargeable cock ring is the perfect tool for simultaneous (and fast) orgasms. Simply slip it onto the base of the penis, choose one of the six different vibration settings and get into your favorite position — the Tor 2's powerful vibrations will do the rest.
Mystic Wand Vibrator, $43, Amazon
The best part about this toy? You can run it all over both partner's erogenous zones during quickie sex to ramp up the pleasure. It's like the infamous Hitachi wand, but this one runs on batteries instead of requiring an outlet, so you can take it anywhere, anytime.
The Minna Ola is not your average vibrator: it uses "squeeze technology" to copy the pressure and pattern of your squeezing, so it will feel *exactly* the way you want it to. Use it on either partner's favorite feel-good zones during quickie sex to take things to a new level.
We-Vibe Verge, $74, Amazon
Verge by We-Vibe is another example of a pleasure-enhancing cock ring that can be worn during quickie sex for intensified orgasms. It works great for couples (because the vibrations also stimulate the clitoris), and if your partner has a penis, there's an added bonus: shiver-inducing vibrations on the sensitive spot between the balls and anus (aka the perineum).
Liberator Heart Wedge, $64, Amazon
This might be more of a prop than a toy, but it will make your quickie sex better all the same. If you're in a hurry, you don't want to waste time trying to get exactly the right angle — instead, use the Liberator Heart Wedge for easy G-spot access, deeper penetration, and neck-cramp-free oral.
Peggy Vibrating Egg, $59, Unbound
This bullet style vibrator is small, but mighty. If you're having sex in a hurry, this tiny toy can can be used for extra stimulation anywhere you put it: the clitoris, the anus, or on your nipples. Plus, your partner can remotely control the vibrations from up to 20 meters away, so if you want to get a head start on your hurried sex, simply slip it into your underwear over dinner (just be careful not to get caught).
Twiggy Massage Ring, $37, Unbound
It might look like just a beautiful piece of jewelry, but the Twiggy Massage Ring is much more than just an accessory. Though there's no vibration, the spheres are designed to target pressure points, including — you guessed it — your partner's erogenous zones. If you have the Twiggy Massage Ring (literally) on hand, you can get down to business anywhere, and get off in a hurry with its help.
Quickie sex doesn't have to leave you yearning for more. If you're open to accepting a little help — in the form of sex toys, of course — both partners can enjoy so many orgasms in so little time.