Here's How To Know If Your Partner Is Emotionally Cheating On You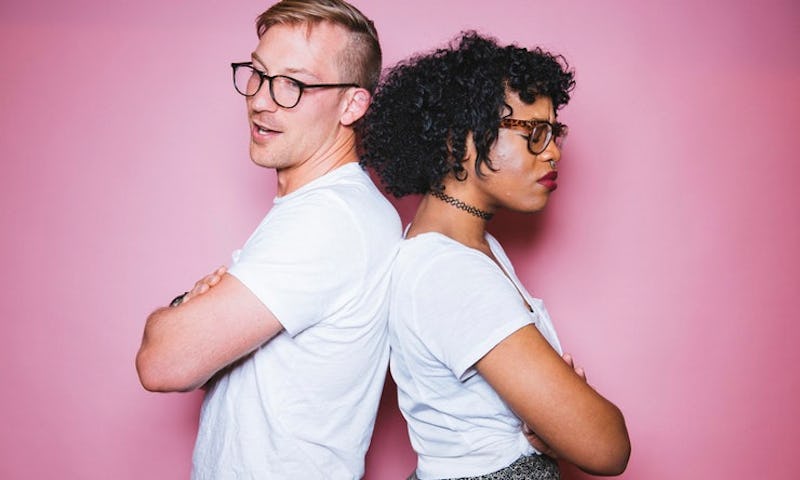 BDG Media, Inc.
When it comes to cheating, you and your partner may define it one way whereas another couple may define it another way. Of course, it's best to determine — in advance — what constitutes cheating. There's physical cheating, but then there's emotional cheating. Speaking of which, oftentimes, there are signs of emotional cheating to look for, especially ones you may miss.
Regarding any type of cheating, it's important to have relationship boundaries in place. For instance, can your partner kiss someone else? Can they regularly email someone they used to date or an attractive coworker you've never met?
"In its broadest form, emotional cheating is essentially giving emotions — that were once reserved only for your significant other — to someone else," Joshua Klapow, Ph.D., clinical psychologist and host of The Kurre and Klapow Show, tells Bustle. "It may not be about sex or sexual connection, and it doesn't always have to do with another love interest."
He says that emotional cheating is taking things like love, trust, vulnerability, connection, and affection, and removing them or diminishing them in your current relationship and giving them to another person outside the relationship. For instance, your partner may have developed a close, intimate relationship with a new friend, Dr. Klapow says. "The relationship is platonic ... but the connection is transferred to the new friendship," he says.
That said, relationship experts say that there are, indeed, predictors of emotional cheating to watch out for, such as the below.