9 Things To Focus On When You're Exercising That Have Nothing To Do With Calories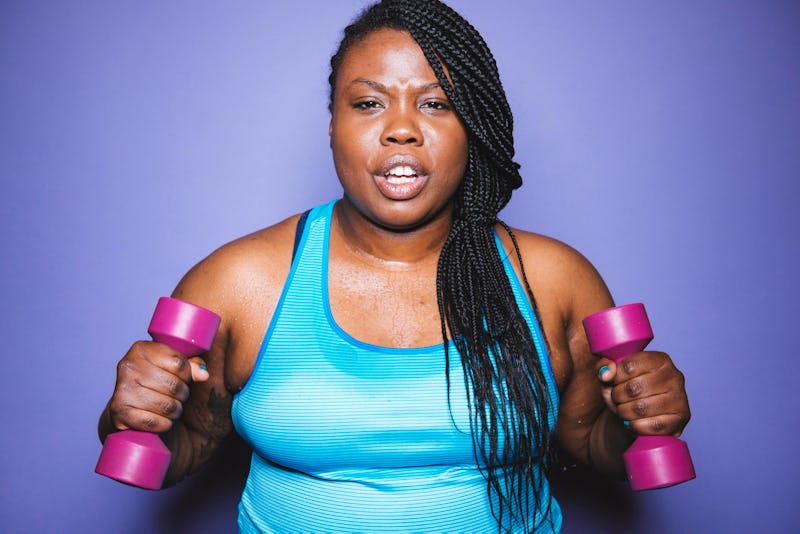 BDG Media, Inc.
I'm not into fitness culture — but I am into fitness. By "fitness culture" I mean the websites and products and YouTube personalities who are solely focused on changing people's bodies through weight loss and calorie-counting. It's a new generation of the same old garbage, making women (and other genders) feel bad about how we look and then trying to sell us something to make it "better."
But that doesn't mean I don't work out. Around four years ago, I went from being a person who smoked three to 10 cigarettes a day and would only run if I was being chased, to being a non-smoker who owned more than one set of workout clothes. I made the change in my mid-twenties because I realized my metabolism wasn't working the way it used to and that was making me sluggish and bummed out. So I started with taking walks, then runs, then high-intensity interval training, then yoga and weight training.
But one thing I never did? Count calories. I was never interested in counting calories burned because 1) I love to eat and, 2) I have the kind of anxious, obsessive personality that I suspect would get too obsessed with that metric. Also? As a lifelong feminist, I've always hated diet culture and focusing solely on calories burned and calories consumed is a major part of that world. I even went so far as to not enter my height and weight into fitness trackers, because I didn't want to get distracted by that "calories burned" section.
So if you're not paying attention to calories burned, what should you focus on when you're working out? Here are nine things to focus on when you're working out that aren't calories burned.