9 Weird Beauty Tools Experts Swear By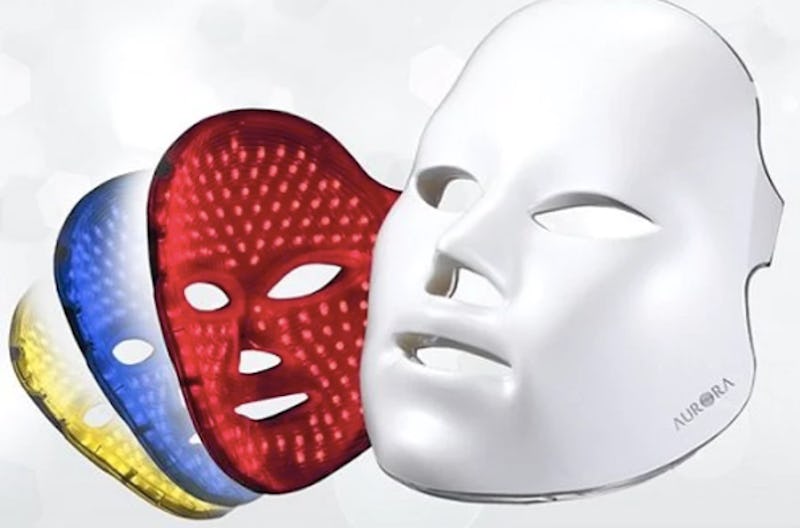 Courtesy Brand
When you're a babe who's into beauty, it's beyond awesome when you stumble across a bizarre new tool that you love. However, these serendipitous events don't happen regularly (unless you're ridiculously lucky) so you'll want to learn about the weird beauty tools experts swear by, in order to up your chances of finding an unusual, yet potentially life changing, beauty tool.
It may sound excessively vain to describe a beauty tool as "life changing," but if you've ever discovered a new tool that saves you time and effort, makes your life generally easier, and helps you to look and feel fabulous, you'll understand this isn't an exaggeration. I'm quite low-maintenance when it comes to hair and beauty, so my unusual beauty tool that I can't live without is my set of heated rollers. Remember the ones your mom used to rock in the '80s? They're similar to those, but an updated version. Sure, they look a little old school when I'm wearing them, but they save me so much time — I pop them in while I'm doing my makeup et voilà! When I've finished my face, my hair is basically ready too. They're a life saver for last minute events or days when I'm running late, which is near enough every day of my life.
So I spoke to a bunch of beauty experts to discover the weird beauty tools that they swear by, in the hopes you might find a new, favorite tool that'll simplify your beauty routine.
1. BlendSmart2
BlendSMART2 Starter Set, $69, Blend Smart
Beauty and lifestyle expert Jeanette Zinno, tells Bustle over email, "I recently discovered the BlendSmart and have started to play around with it. It has a battery in it so it spins and actually blends makeup for you, which makes applying makeup so much easier. You're finished with a flawless, airbrush[ed] look."
2. Liftra
Dr. Jart+ Liftra™ Contour Shaper, $80, Sephora
"Facial massage has been overlooked for sometime and now is becoming a big trend in the US," explains Zinno. "This massage tool is great for when you're overtired or jet lagged and have bags under your eyes or dark circles," she elaborates, "it can also be used on the arms and legs, which I love!"
3. Luna
"The Luna facial cleansing device is the future of face cleansing," says Zinno, "it cleanses skin while unclogging pores and exfoliating at the same time. I love that you can choose the right brush for your skin type, whether you have combination or sensitive skin, etc."
4. NARS Ita Kabuki Brush
NARS by Nars Ita Kabuki Brush (Package Of 2), $150, Amazon
Although this brush looks like something a gentleman might use while shaving, don't let it's looks deceive you. Honey Artists makeup artist, Min Min Ma, tells Bustle over email, "NARS Ita Kabuki is one of my favorite brushes. Because of its flat shape, I use it for shading, buffing, and face powdering especially in areas such as under the eyes and around the nose." Next time, don't judge a brush by it's cover, as you never know what you might be missing out on!
5. InStyler Max Wet To Dry 2-Way Rotating Iron
InStyler Max Wet To Dry 2-Way Rotating Iron White, $100, Amazon
"This is a cool iron because it has a built in rotating brush and you can use it on wet hair, so it's straightening the hair while it's being dried: Time saver! You can also style your hair with curls or waves, instead of having several tools... this one does it all," says Zinno.
6. Tria Beauty Hair Removal Laser Precision
Tria Beauty Hair Removal Laser Precision, $249, Amazon
Want a permanent hair removal device you can use at home? You'll love this product.
"It's so cool to have the option of doing laser hair removal in the comfort of your own home and you can save a lot of money. This tool is light and small enough that you can use it on delicate areas of the body," explains Zinno.
7. The Aurora LED Mask
Aurora Low Level Light Therapy System LED Mask Self Home Esthetic 100~240V, $1,480, Amazon
"My favorite yet relatively weird tool I use on myself (at home and [in the] office) and my clients is The Aurora LED mask. This mask can look downright scary! We keep it in the corner of our treatment room and it can look like a spooky, strange halloween prop, but it's super effective!" Explains Adriana Martino co-founder of SKINNEY Medspa, in an email to Bustle.
"The mask works well as the LED red and blue light is super bright," she adds, "while other LED systems lie close to your face (which is super bright even with protective eyewear) our Aurora LED mask is the perfect alternative, as it has holes around your eyes making it so much more relaxing. I use the LED mask for an extra boost of collagen and to brighten my skin and the blue light for any active breakouts. As seen on celebs like Jessica Alba and Kourtney Kardashian."
Although it's a tad pricey, you could always book an appointment to try out this bizarre beauty tool at SKINNEY Medspa, or with your local esthetician that hosts an Aurora Mask.
8. Sephora Confetti Sponges
Sephora Collection Confetti Set of 5 Mini Sponges, $12, Sephora
"When I do TV appearances I always use these mini sponges because there's a sponge for anything I need. They get into the smallest corners of the face when I'm blending my makeup and are easy to use," says Zinno.
9. Dr. Dennis Gross Pro Facial Steamer
Pro Facial Steamer, $139, Amazon
"Hydration is so key for the skin and this steamer makes it easy to do at home. Most people only steam at a spa, so this is a great option for anyone who wants to look younger and have more plump, glowing skin," explains Zinno.
It pays to try out the weird and wonderful beauty devices of the world, but if you want to ease yourself into the unusual, give these expert approved, weird beauty tools a try first!
Images: Courtesy Brands