A Dog Pop-Up Museum Is Opening And Yes, You Can Bring Your Furry Friend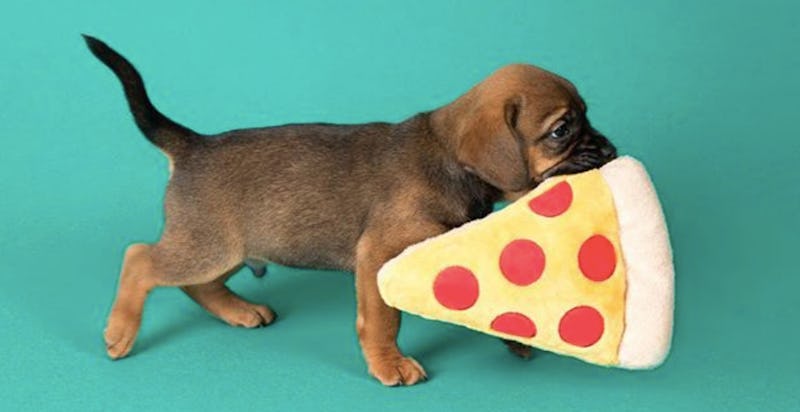 Human's Best Friend/Instagram
Pop-up attractions are decidedly having a moment. In recent memory, New York City alone has hosted pop-ups devoted to ice cream, candy, and even rosé. When you think about just how offbeat the themes for some pop-ups are, perhaps word of the newest won't come as much of a surprise. Brace yourself, New York: a brand new pop-up museum for dogs is opening soon, and it is sure to be an absolute treat.
The immersive attraction, called Human's Best Friend, is designed for all fans of the atypical and adventurous. The "shareable experience for dogs and the humans who love them," will feature eight different rooms open to humans and dogs alike. According to its website, highlights include a room called the Backyard, a suburban-style picket fence facade straight from the dreams of a city dog; the Bone Yard, which is made up of floor-to-ceiling bones (very goth); and the Water Bowl, which is filled with not water, but blue tennis balls optimal for swimming without getting wet. There will also be a big toy pit for your pup to go hog wild and play with more toys than it ever has before.
Each area of the exhibit is guaranteed to be beautifully-designed and executed, with vivid colors for enviable Instagrams and optimum pupper cuddling.
If you're a dog lover but have been on the fence about adopting one of your very own, Human's Best Friend might just give you the nudge you need to take the plunge into pet parenthood. The pop-up will have a number of adorable pups available to adopt through local rescue organizations. Come for the pictures, and maybe leave with a new best friend; what could be more perfect?
Dog-friendly pop-ups aren't so novel across the pond. Last weekend, folks in London had the opportunity to visit the French Bulldog Pop-Up Café, which was organized by the team behind an equally intriguing and wildly popular Pug Café. Frenchie owners and lovers alike had the opportunity to brunch with some smushy-faced four-legged friends at The Happenstance, a modern eatery that overlooks St. Paul's Cathedral. Owners received a complementary pupuccino and a bag of pupcorn to feed their accompanying dogs with the purchase of an entry ticket. Frenchie lovers also received some goodies in the form of a bag of doggy treats to make friends with the Frenchies. Frenchies, food, and a picturesque setting sounds like something out of a fairy tale.
While it may not take place overlooking a cathedral (that would be pretty hard to do in NYC), the Human's Best Friend exhibit is a must-see for city dwellers of all sorts. Plus, 10 percent of the pop-up's profits will directly support the rescue partners providing the exhibit's adoptable puppies, so you can take fab photos and feel good doing so.
Human's Best Friend opens this Saturday, Sept. 15, and runs through Nov. 12. Tickets are available now, and sell for $29 per human or $39 for a human and a dog.