Sorry, But 'Friends' Is Never, Ever Coming Back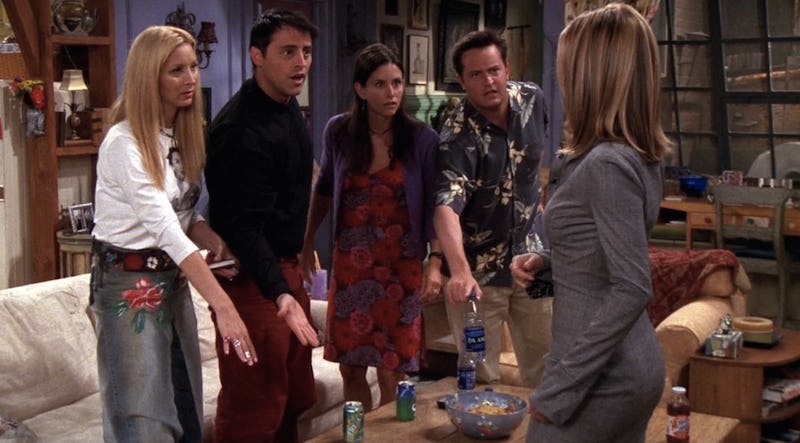 Warner Bros. Television
I hate to be the bearer of bad news, but after all that, it seems like maybe the cast of Friends won't be there for you (clap clap clap clap). Co-creator Marta Kauffman says a Friends reboot will never happen. Ever. And, although she didn't say it, you have to imagine that at some point Kauffman would like to stop being asked about a show that went off the air in 2004 at screenings for her show that's on the air in 2017.
That's exactly what happened on Saturday at a Netflix FYC special screening for Grace and Frankie. Kauffman responded to a question about a possible reboot of her project of over a decade prior with this utterly unequivocal answer: "Nope! Never happening. I know, [rumors] happen all the time! Not happening. Not ever."
Doesn't leave a whole lot of room for interpretation, and yet somehow I know that she will be asked again. And again. And again and again and again. Don't get me wrong. I totally get it, because Friends is such a nostalgic topic for so many of us. Just turning on an episode feels familiar and calming, like hanging out with one of your best friends. But, that said, Kauffman has been holding the same line on a Friends comeback basically since it left the air, as have many people involved in the show.
In June 2016, she firmly shut down reboot rumors, telling The Hollywood Reporter, "I don't know how many ways we can say no. And that was after telling the ATX Television Festival, "There will be no Friends reunion!" the year before.
At some point, it might be cool if we stopped asking. Maybe, if you're really jonesing for Friends, and watching it on Netflix or in syndication or on those VHS tapes you definitely still have just won't cut it, then you could tune into Kauffman's more contemporary project, Frank and Grace. The creator said in January 2016 that it gives her similar feels to the ones she got from Friends:
For me, why go back to that territory again? I get to do [on Grace] what I loved about Friends, which is, make a show that's got some hope and joy to it and explore something completely new. That was about a certain time in your life, and I had just left [the] Friends time.
If Kauffman can leave that time, then surely the rest of us can too. We all love Friends, but it just wouldn't work as a reboot. Let's move on, folks.