A New 'Game Of Thrones' Book Is Coming Out This Year — But It's Not 'Winds Of Winter'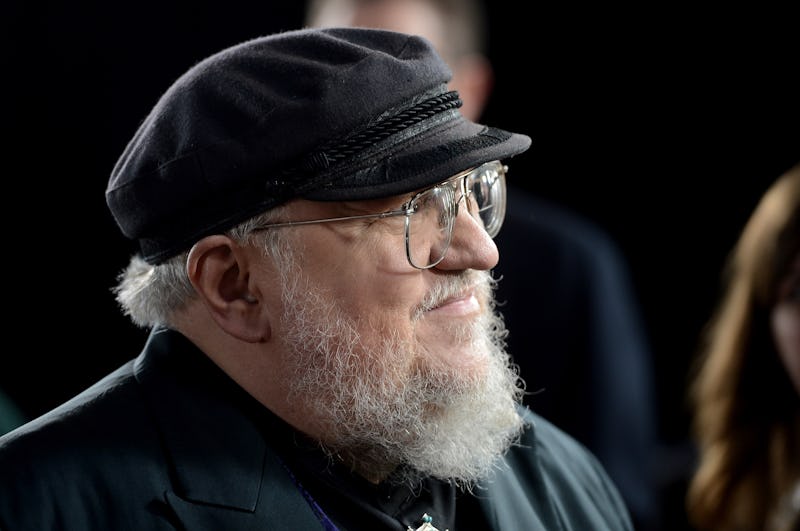 Kevin Winter/Getty Images Entertainment/Getty Images
If you thought waiting another year until the premiere of HBO's final season of Game of Thrones was bad enough, I've got even worse news for you, Thronies: George R. R. Martin has confirmed that the next installment of the book series, Winds of Winter, is not coming out in 2018. When will the long-awaited sixth book in the bestselling A Song of Ice and Fire series hit shelves? There is still no official publication date, but a new hardcover history of the Targaryens is hitting shelves this November.
On his author website on Wednesday, A Game of Thrones author George R. R. Martin gave fans the old good news, bad news "No, winter is not coming... not in 2018, at least," he wrote of the next and highly anticipated book in his A Song of Ice and Fire series. "You're going to have to keep waiting for The Winds of Winter." What won't have to keep for is an in-depth history of one of the most powerful families in Westeros, the Targaryens.
Not to be confused with Michael Wolff's recent political bestseller Fire and Fury, Martin's forthcoming Fire and Blood is set 300 years before the events in A Game of Thrones and chronicles the reigns of the Targaryen kings from Aegon the Conqueror to Aegon the Dragonbane. The detailed history will also explore the lives of those closest to the kings, including wives, children, siblings, allies, friends, and rivals, as well as examine any wars, laws, or political conflicts of the day. According to the author, readers can also look forward to dragons, "lots of dragons," and some truly beautiful black and white illustrations by artist Doug Wheatley throughout the book Martin is calling an "imaginary history" of Westeros.
Fire and Blood: 300 Years Before A Game of Thrones by George R. R. Martin, illustrated by Doug Wheatley, $27, Amazon
While it will be rich with stories from the world of Game of Thrones, Fire and Blood, Martin insists, is not a novel, but rather his own "version of Tolkien's mammoth history of Middle Earth." In this case, Martin's history of Westeros focuses on the Targaryens, from the early days of Aegon's Conquest to the final bloody battles of Robert's Rebellion and the five kings — and one queen — who sat on the Iron Throne between them. Portions of Fire and Blood have previously appeared online and in other books, according to Martin, but the massive 989 page book is also filled with new, never before seen material. Written by Archmaester Gyldayn, one of the kingdom's most respected maesters at the Citadel, the massive history will include information about the reign of Aegon I's sons, Aenys and Maegor, as well as details about the struggle over succession following Jaehaerys I, stories from the short rule of the first woman to ever sit on the Iron Throne, and so much more.
In September, reports surfaced that one of the two planned Game of Thrones spin-offs might be about House Targaryen, and many fans are already speculating that Fire and Blood could be the source material for the new show. In addressing the question he knows many readers have, Martin explained "The only answer I can give is… ah, well, no one is sure yet, and anyway, I am not allowed to say. So let's move that to the side."
Between the fall release of Fire and Blood and its planned second volume, HBO's Game of Thrones season eight return in 2019 and two upcoming spin-offs, and the eventual release of Winds of Winter, Thronies can rest assured that winter is coming.... eventually.