Kim Kardashian Doesn't Let Tristan Thompson Off The Hook In This New 'KUWTK' Clip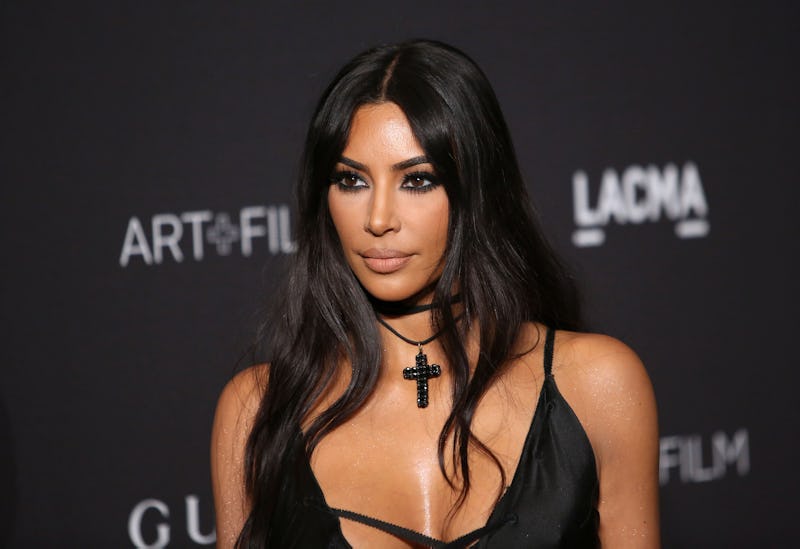 Jesse Grant/Getty Images Entertainment/Getty Images
Tristan Thompson's reported cheating scandal happened months ago, but fans are finally seeing the Kardashians' side of things on Keeping up with the Kardashians. And a new KUWTK clip reveals what Kim Kardashian told Tristan Thompson after the cheating scandal, suggesting that the basketball player isn't actually sorry about the incident. As she says in this clip from Sunday night's new episode, she thinks he's only sorry that it's affected his career and "embarrassed" him.
During an on-camera conversation with her cousin Cici Bussey and her mom, Kris Jenner, Kim says that while she was happy the family saw True's birth in Cleveland, she also thought the visit with Thompson, which doesn't appear to have been filmed, was "pointless" in some ways. "Honestly, I mean, I'm glad we went, because we got to see the baby," Kim tells Cici in the clip. "But it was, the more I think about it, the more pointless it was."
When Kris interjects to say that Thompson seemed "remorseful" for the aftermath of the cheating scandal, Kim doesn't seem convinced. "I told him, 'I think you're more remorseful because it's affecting your job,'" Kim tells her family members. "I think he's more embarrassed that he looks stupid." She also referenced the fact that Tristan was booed at a Cavaliers game, saying it was "more of that than anything."
Kim later says in a confessional interview that when her family went to visit Thompson, Khloé, and True, they didn't hold back. "We all expressed exactly how we felt," Kim tells the camera. "I think the convo was going okay at the beginning, and then it got heated. And then, I don't know. It just kind of took a left turn."
Still, Kim adds that the conversation was "necessary" so that Thompson would know how Khloé's family felt about the situation. Back in April — just days before Khloé gave birth to True — several videos emerged that appeared to show Thompson cheating on Khloé. One of them, published by The Daily Mail, seemed to show Thompson with another woman in New York a few days prior. Another video, published by TMZ, reportedly showed Thompson with two other women at a hookah lounge in Washington, D.C.
And based on Kim's account in the new KUWTK clip, it sounds like Kris gave Thompson an ultimatum of sorts, too. She tells Cici,
"My mom was like, 'You can make your decision. If you want to be, if you want to live this life of dating these Instagram whores and doing your thing, live that life.' Mom's like, 'If this doesn't work out for you guys, we're always going to rise up.'"
During the conversation with Kim and Cici, Kris also points out how much effort Khloé put into building a home for the new family in Cleveland, so that she and True could be closer to Thompson. "She really never saw it coming either," Kris says of Khloé.
Based on this conversation, it looks like Sunday's episode might be a difficult one to watch. Whatever happens with Khloé and Thompson, though, the whole Kardashian-Jenner clan will always be there to shower her and True with love.