What's Happened So Far On Rachel's 'Bachelorette' Season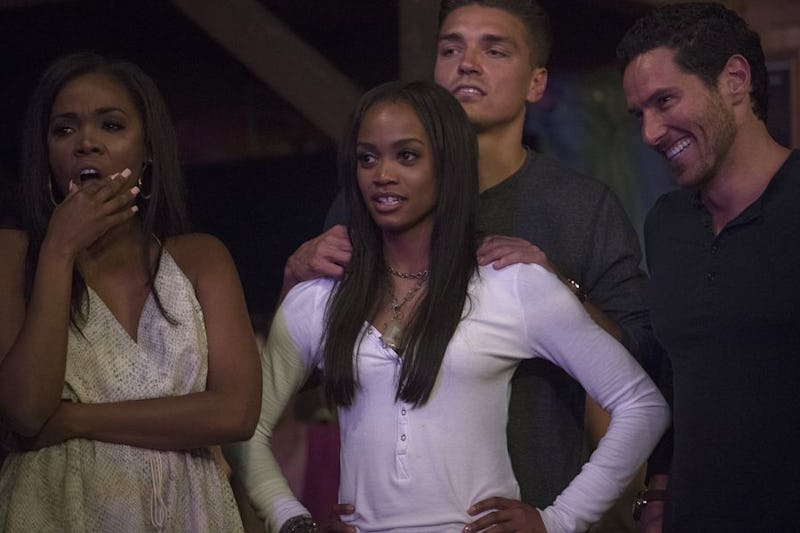 Matt Brown/ABC
It's been about two weeks since the last new episode of Rachel Lindsay's season of The Bachelorette, but it feels like it's been way longer, doesn't it? On June 12, ABC aired an NBA Finals basketball game in lieu of a new episode, but the show will be back on June 19. If you need a recap of Rachel's Bachelorette season so far, don't worry — I've got you covered. Now that NBA Finals are over, Rachel can resume her search for love on The Bachelorette on Monday night.
In the previous episode of The Bachelorette, tensions were building among with Rachel's suitors and the competition for her affection was starting to get fierce. There are still many men left for Rachel (and her pup Copper) to get to know and lots of group dates, one-on-one dates, and Hometown dates to go on. There are still many more episodes to go and, if previous Bachelorette seasons are any indication, anything can happen in the course of a season. We have yet to learn who Rachel's eventual fiance will be, but the journey has been fun to watch. Here's what fans know — and what you should know — about what has happened so far this season on The Bachelorette.
Rachel Brought Her Dog To The Mansion & On A Date
A Very Important Fact about Rachel that you need to know is that she brought her best friend and "dog-child" Copper to the mansion. The canine is too cute and Copper even stole the show when she took him along on her one-on-one date with Peter to BarkFest, which was an adorable party filled with dogs.
Rachel Eliminates DeMario
Rachel caught DeMario in a bit of a fib on The Bachelorette. Lexi shows up to expose her own relationship with DeMario, which may or may not be actually over, to Rachel, who handles it like the intelligent lawyer she is. Rachel eliminates DeMario from the competition, but later he turns up back at the mansion, asking for a second chance. Rachel declines.
Rachel Gave The First Impression Rose To Bryan
Rachel was charmed by Bryan from the get-go, even though he told her that's he's "trouble". They spoke Spanish together, kissed, and she awarded him with the First Impression Rose.
The Guest Stars Have Been On-Point
Ashton Kutcher, Mila Kunis, Ellen DeGeneres, and Kareem Abdul-Jabbar are among the celebs who have stopped by The Bachelorette to help Rachel on her journey to find love.
Rachel Kissed Fred & Was Not Impressed
During his childhood, Fred had a crush on his camp counselor — who just happened to be Rachel. He attempted to take his crush to the next level and have Rachel see him as a man rather than a boy, but Rachel was not impressed with him or the kiss.
Lucas & Blake Have The Weirdest Argument Ever
Lucas and Blake established an on-screen rivalry early on — and they seemed to know each other from co-starring on the reality show Ex Isle. The tension between them soon led to them being eliminated via Rose Ceremony and having the above confrontation, which left Bachelor Nation's collective heads spinning.
Tensions With Eric Are Rising
The last new episode left off with Eric in a tense discussion with some of the other men in the house, due to suspicious that he's not there for the right reasons. How will it end? You'll have to tune in this week to see how it turns out.
And now you're ready to jump back into The Bachelorette with a new episode on June 19.