A Same-Sex Couple Is Alleging Discrimination Against Southwest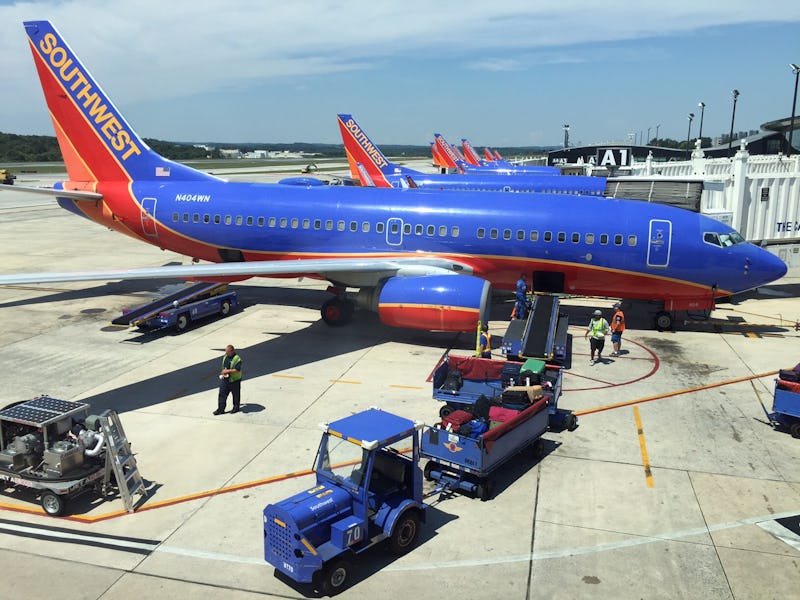 Rob Carr/Getty Images News/Getty Images
Headlines haven't been great for airlines lately; and yet another is making the news for a not-so-wonderful reason. According to reports, a same-sex couple is claiming Southwest Airlines allegedly didn't let them use family boarding, and one half of the couple is making his side of the story known, sharing the embarrassment they felt after allegedly being profiled and discriminated against. Southwest Airlines tells Bustle in an email that "the conversation in the boarding area had nothing to do with discrimination"; but was it that simple?
Grant Morse and his spouse have been together for 26 years, married for five. They are both the legal and biological fathers of twin boys (three years of age) and a daughter (five years of age). According to Morse, on Saturday, May 20, the family, along with the children's grandmother, was getting ready to fly from Buffalo to Fort Lauderdale when they tried to use Family Boarding. Morse says that a boarding agent and supervisor would not let them through, although they requested multiple times and have never had a problem using Family Boarding with Southwest before. According to Morse, the staff's reasons why were vague.
The result of all this? The family was allegedly split up once they boarded the plane.
While the details are still unclear, it seems that Morse sat with the twins in the back row, his husband sat with their daughter in another row, and the grandmother was seated in an exit row. (One report claims the daughter was actually sitting in between two strangers by herself in another row.) Morse's anger was further escalated after seeing another family (two parents with a child) use Family Boarding while his family allegedly had to stand off to the side.
Here's where it gets even more confusing: Southwest's policy says that any adult traveling with a child six years or younger can use Family Boarding. With three kids under the age of six, why were Morse and his spouse allegedly denied access?
Here is the full statement Southwest shared with Bustle:
"The conversation in the boarding area had nothing to do with discrimination, we welcomed both parents to board the aircraft with their children. The parents expressed disappointment that the Family Boarding policy was not applicable to another member of their group. Prior to the departure of Flight 5136 from Buffalo to Fort Lauderdale on May 20, we welcomed all families to board the aircraft during Family Boarding between the "A" and "B" boarding groups. Our Operations Agent informed two parents that another member of their group was ineligible to board under Family Boarding and asked that she board in her assigned boarding group. The two parents did not agree with our policy, and our Flight Crew worked to save seats together on the aircraft for the family as the conversation continued in the gate area. Our Family Boarding Policy is explained on Southwest.com and our Employees work hard to follow the policy to accommodate families traveling together while also maintaining boarding priorities for all of our Customers.
We welcome onboard hundreds of millions of Customers each year. Southwest neither condones nor tolerates discrimination of any kind. Our Company could not survive if we believed otherwise. In fact, a cursory view of our workforce, as well as our expansive, multi-cultural Customer base, is a reliable indicator that we exalt and appreciate diversity."
While Southwest maintains they followed policy, Morse still disagrees, adding that they never offered for the two husbands and their children to board, while the grandmother would need to wait. Furthermore, he claims the gate attendant they dealt with was rude and sarcastic, humiliating them. Finally, if the airline tried to save seats for the family, why were they still so scattered? Morse has already filed a formal complaint; and if a lawyer tells him he has a case, he'll probably move forward — but he's made clear that any money he receives will be donated.
One can only hope that there was some kind of mix-up or miscommunication; but in today's climate — what with airlines forcibly removing passengers from planes in an aggressive manner and denying women their seats for wearing leggings — who knows?