Starbucks' Mermaid Frappuccino Is Off The Secret Menu & Part Of Your World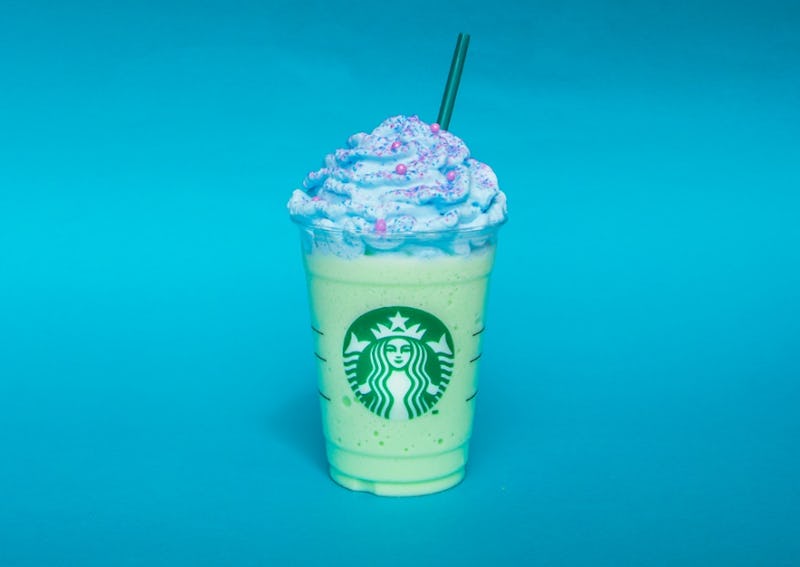 Courtesy of Starbucks
Well, friends, I have good news and bad news for you this beautiful Thursday morning. Which would you like first? The good news? OK, then— brace yourselves: An official Starbucks Mermaid Frappuccino actually exists, and it is available today. This is not a drill! Unfortunately, though, the bad news might tamp down your excitement somewhat: You can only get this mythically-themed beverage in Mexico. If you are currently anywhere other than Mexico and you were hoping to be able to get your hands on one of these suckers, you have my condolences. If you are there, though, do us all a favor, will you? Order one and tell us what it tastes like. Inquiring minds need to know.
This glorious Frappuccino follows on the heels of the Unicorn Frappuccino, which took both coffee shops and the internet by storm in April. For one brief and shining moment, a blue and pink, color-changing treat with a mystical bent was available to us all, and although opinions on how it actually tasted were divided, there's no denying the power of the Unicorn Frapp. Many stores actually began running out of the ingredients required to make the drink long before the end of its five-day run.
And, honestly, I suspect that the same thing is going to happen to stores in Mexico offering the brand-spanking-new Mermaid Frappuccino. Starbucks Mexico began teasing the drink on social media on Aug. 22, giving us a top-down image of it presented with the caption, "From the most mysterious of the waves, I brought something very special for you. Wait til Aug. 24":
And now that it is Aug. 24, we've finally discovered the secret!
Inspired by the green siren — a mermaid with two tails —that makes up the Starbucks logo, the Sbux Mexico Mermaid Frapp starts with a Green Melon Crème Frappuccino base — not a flavor we have in the U.S. of A. — before being finished off with blue vanilla whipped cream, blue and pink sugar crystals, and iridescent violet pearls. I imagine it tastes sort of like a blended version of melon bubble tea (which sounds fantastic to me, as that is my favorite type of bubble tea). It's available starting today at participating Starbucks stores in Mexico.
Worth noting: The Starbucks Mexico Mermaid Frappuccino isn't at all related to the unofficial Mermaid Frappuccino barista Jocelyn Freeman invented back in April when her store ran out of Unicorn Frapp ingredients. That Mermaid Frapp consisted of a Vanilla Bean Crème Frappuccino blended up with blackberries and garnished with white mocha sauce, toasted coconut syrup, and matcha powder. Alas, the ingredients for the Starbucks Mexico Mermaid Frapp aren't available in the United States, so you'll probably have a hard time ordering it. Indeed, it's just one of over 245 unique food and drink recipes that are offered exclusively at Starbucks stores in Mexico; if you're in the area, you can also get, for example, a Churro Frappuccino and a Cornbread and Taro Frappuccino.
But hey, even if we can't get the official Starbucks Mermaid Frapp, we can still get our hands on Jocelyn Freeman's take on the idea if we place the right order. To order a Grande size of Freeman's unofficial Mermaid Frapp, ask for a Vanilla Bean Crème Frappuccino with three scoops of blackberries (or just ask for a "Pokemon Go" Frappuccino without the raspberry syrup) — and see if your barista will make you a drizzle out of eight pumps of white mocha sauce, three pumps of toasted coconut syrup,and three scoops of matcha powder to line the cup.
Happy swimming!