This Chris Pratt & Anna Faris Relationship Timeline Will Make You So Nostalgic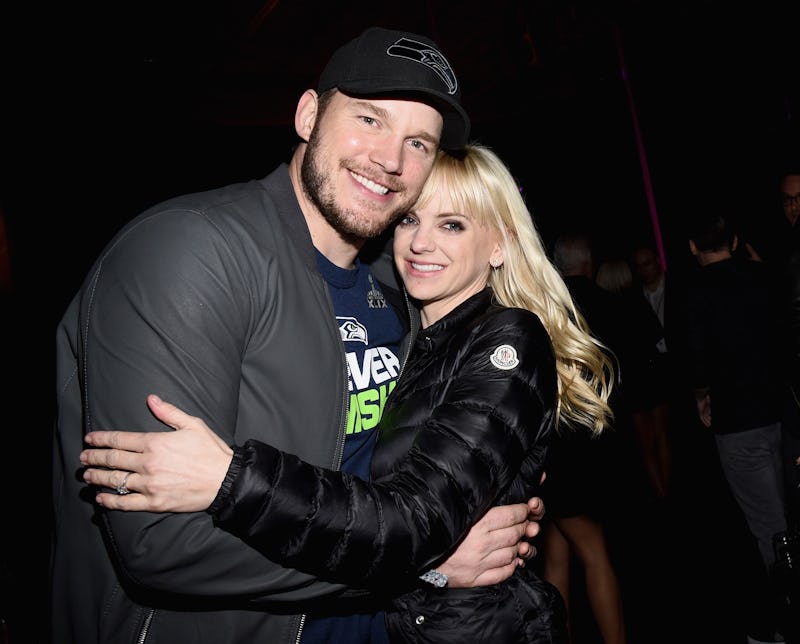 Michael Buckner/Getty Images Entertainment/Getty Images
The latest Hollywood couple to hit the rocks has many fans crying that "love is dead," and the timeline of Chris Pratt and Anna Faris' relationship is explanation enough for why. The two announced on Sunday that they were ending their marriage, and fans have been reeling ever since, wondering how we missed the signs that led to this point. In addition to being devoted parents to a 4-year-old son, Jack, Faris and Pratt have been married for a whopping eight years. That's practically a lifetime in the entertainment industry.
Especially when you consider that the comedic couple spent most of it giving effusive interviews about how much they loved each other. They met while Faris was still married to someone else, and Pratt has always been vocal about how lucky he feels that the two ended up together. He's even gone so far as to use the words "divine intervention" to describe the beginnings of his relationship with Faris, so you'd be forgiven for feeling blindsided right now.
But instead of kicking ourselves for not seeing this coming, let's celebrate what they once had. These two seemed joyful and open and in love every step of the way, starting from the very beginning of their relationship.
Early 2007 — The First Meeting
They met in 2007 at the table read for Take Me Home Tonight. According to Pratt, the chemistry was instantaneous, even though Faris was still married to her first husband Ben Indra. As he shared in a 2015 interview with ELLE:
"It was like magnets. Our personalities meshed, she was a goofball, she liked to have fun, it was impossible to offend her... we were friends first, but she left her husband at the end of the movie, and we started dating when we were back in Los Angeles."
He makes a point of saying they "never crossed the line" while on set, but admits that they were "developing feelings for each other at the time." And, in case you're looking at the film's 2011 release date and wondering how this all makes sense, Take Me Home Tonight took four years to come out. So even though Pratt and Faris were already married to each other by the release of the movie that they met on the set of, it wasn't quite the whirlwind romance that that statement suggests.
April 2007 — A New Relationship
In April 2007, Faris filed for divorce from husband Ben Indra. In a September 2011 interview with Marie Claire, she claimed that her star was rising and it was creating a "divide" in her marriage to Indra, ultimately destroying it. She and Pratt began dating shortly after Faris filed for divorce, and the 38-year-old later told ELLE, "The day that she told me she was going to leave her husband, I knew I was going to marry her."
Late 2008 — Engagement
In January 2009, Faris' reps revealed to PEOPLE that she had gotten engaged to Pratt. "They got engaged late last year," was as specific as they'd get, so fans had to fill in the details of the proposal themselves.
July 2009 — The Wedding
Faris and Pratt were married in a small ceremony in Bali, Indonesia, on July 9, 2009, according to a statement from their reps. True to form from their engagement, it was a nice private affair, and there's very little info about it floating around.
May 2012 — The Pregnancy
After almost three years of marriage, the happy couple announced to PEOPLE in 2012 that they were expecting their first child.
August 2012 — The Birth
On Aug. 25, 2012, Jack Pratt was born. He was nine weeks premature of his due date and had to spend a month in the NICU before getting to go home, but eventually both mother and child were released happy and healthy.
Late 2015 — The Rumors
The notoriously private couple dealt with rumors about alleged infidelities. While it seemed like the pair didn't buy into the gossip, Faris has been open about the obstacle it presented in their marriage. On her podcast Anna Faris Is Unqualified, the 40-year-old actress shared with guest Isla Fisher:
"We grapple with the idea of being a public couple. For the first time, maybe a year ago or 10 months ago, we were in the public a little bit. There were some tabloid rumors about strain on our relationship. I just remember feeling so hurt in a way that bothered me because I didn't want to think of myself as somebody that could be affected by tabloid sh*t."
In a speech at Pratt's Hollywood Walk of Fame ceremony, Faris acknowledged that, if the two of them didn't have the careers they did, they'd be "happy in the woods together."
Late December 2016 — The Upgrade
Late in 2016, Pratt surprised Faris with an upgraded engagement ring, which she showed off on the red carpet, telling reporters, "I'm very, very lucky."
April 2017 — The Last Public Sighting
The last time the couple appeared together publicly was at the Hollywood Walk of Fame event to give Pratt his own star. Their son, Jack, was also in attendance.
Summer 2017 — The Social Media Hiatus
Looking back on the most recent social media posts from the former couple reveal that it's been months since they've appeared in each others' feeds.
August 2017 — The Announcement
After eight years of marriage, the couple announced via coordinated social media posts on Aug. 6 that they were legally separating.
It's a sad way to end this beautiful and hilarious love story, but let's cherish the time we had with this delightful couple — and the time they had with each other.
Editor's Note: This article originally incorrectly claimed a July 2016 appearance at the Seattle Seafair Torchlight Parade to be the last time the couple was seen publicly. It has since been updated.