The Latest Beautyblender Substitute Is... A Marshmallow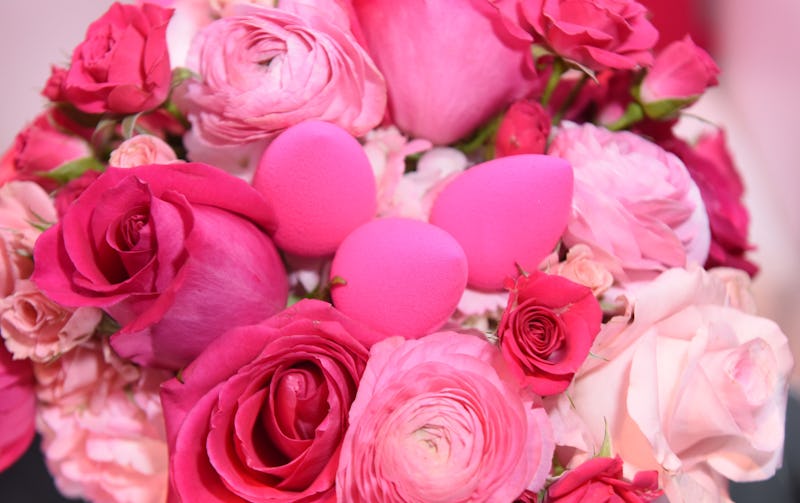 Vivien Killilea/Getty Images Entertainment/Getty Images
Beauty bloggers have come up with plenty of clever substitutes for the ever-popular, super squishy, and iconic beautyblender sponge. A vlogger who goes by the name "manalmuffin" actually used a marshmallow as a beautyblender. Yes, the kind you eat. I mean, if you suspend disbelief and ignore potential hygiene hazards —seriously, it's not like she was going to eat this after using it to blend foundation— it's not that unusual of a choice. A beautyblender is spongy, bouncy, and has a similar texture to a marshmallow.
The marshmallow-as-beautyblender hack follows one vlogger who made a makeup blender out of a household sponge. Another subbed her boyfriend's private parts for a beautyblender in a video that went viral. One creative makeupista even used a Louboutin sole, covered in plastic wrap, to blend, blend, and blend away.
The video has amassed nearly a million views and only recently started going viral, despite being posted several weeks ago. Manal clapped back in the caption at people who might criticize her wasting food or for even trying this.
But remember this: Makeup is supposed to be playful and creative and this "hack" certainly captures that vibe. Plus, it's a marshmallow, not a premium food.
IMO, a marshmallow isn't any crazier than a shoe or body parts subbing for a blending sponge.
Plus, look at her face, post application! It looks pretty good. Manal also revealed another secret tip!
Manal started with a beautyblender, then changed her mind. She told Bustle via email, "I always look for something new to create on my Instagram page in the form of the mini-tutorials. One day, I was just going around the supermarket and saw a packet of marshmallows and it just hit me! I thought it would make a cute little beautyblender since it's soft and it would be a new thing to post on my Instagram."
She continued, "So, I got home and refrigerated the marshmallows until they became very hard. Because, originally, marshmallows are quite soft and if I blended my foundation using soft marshmallows, it would've been a mess!"
Manal also said, "I blended in my foundation using the hardened marshmallow and it actually worked quite well. It did soak up a little product, but it did the job."
To my eyes, it looks like it worked pretty well. That makes sense, since the textures are so similar. I always recommend being careful when using anything near or on your face, especially when it wasn't created for that purpose. Manal said the same thing, noting, "I do not promote anyone to do this, as it can have an adverse effect on the skin. This was just for fun and experiment."
Watch the whole thing from start to finish and you'll be pretty amazed! If you decide to have some fun and try a frozen marshmallow, proceed with caution!