A White Woman Screamed At A Spanish-Speaking Family & Demanded To See Their Passports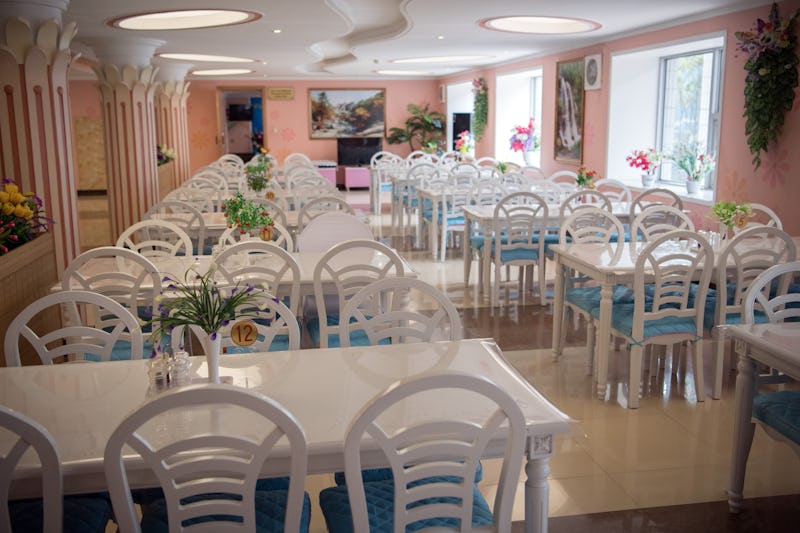 Carl Court/Getty Images News/Getty Images
This seems to be happening with increasingly regularity: A white woman yelled profanities at a Spanish-speaking customer and her daughter at a restaurant in Lovettsville, Virginia. The woman, who has thus far been unidentified in news reports, demanded to see their passports in a video that's going viral.
The unnamed woman shouted at another woman, who was visiting from Guatemala, as she was eating with her 7-year-old child, according to NBC4 Washington. "Go back to your f*cking country! You do not f*cking come over here and freeload on America!" she yelled at the diners, as captured on video. (The Guatemalan woman being yelled at recorded the incident and shared the video with Telemundo 44.)
Loudoun County Sheriff's Office spokesperson Kraig Troxell said the woman was asked to leave the restaurant during the confrontation. "The female subject was asked to leave the business by the manager and she complied without any further incident," Troxell said, according to BuzzFeed News. No arrests have been made thus far, according to the report.
When the unnamed woman was outside the restaurant, she started yelling again. "I'm tired of this shit. … You [bleeped] freeload on us!" she yelled in the video.
An employee said that the restaurant, Andy's, is "letting things settle down." On Saturday, Andy's posted a statement to Facebook, sarcastically thanking the yelling customer and saying they are no longer welcome at the establishment. "Thank you for showing us — through your actions — that all people have the right to be respected. Thank you — and we mean this with all the aforementioned respect that you rightfully deserve — for never returning to Andy's," the statement read. "You are not welcome."
With this moment of viral racism, this woman joined a group of white people who have aggressively confronted people of color who are doing ordinary things. Earlier this month in Brooklyn, one woman called police after she wrongly accused a 9-year-old black boy of groping her. She apologized after she watched security footage of the supposed incident and saw that it was likely the boy's bag. The child told Good Morning America that he was "humiliated" by the experience.
In July, a white man called police on a 12-year-old black boy in a town outside of Cleveland for accidentally mowing a portion of the man's lawn as a part of the boy's lawn-mowing business.
In June, a woman nicknamed "Permit Patty" called the police on a 8-year-old black girl who was selling bottled water outside her apartment building near AT&T Park, where the San Francisco Giants were playing.
In May, a woman in Oakland dubbed "BBQ Becky" called the police on a black family who were grilling with a "non-charcoal" grill in a public park. Starbucks employees called the police on two black men waiting in the store in April.
Such incidents are becoming so commonplace that The New York Times opinion section published a "satirical infomercial" for 1-844-WYT-FEAR starring comedian/actress Niecy Nash. "The video advertises a phone service for white people to call when they can't cope with black people living their lives near them," The Times reported.
The woman who was screamed at said she shared the video because of her child. She said she hoped it will inspire other harassment victims to not be afraid.
"It's not fair that they do this to us, and even less acceptable if there are children present. It's not fair for any child to have to go through that. You just don't do that," the woman said, according to NBC4 Washington.