Jesse Pinkman Could Be In 'Better Call Saul'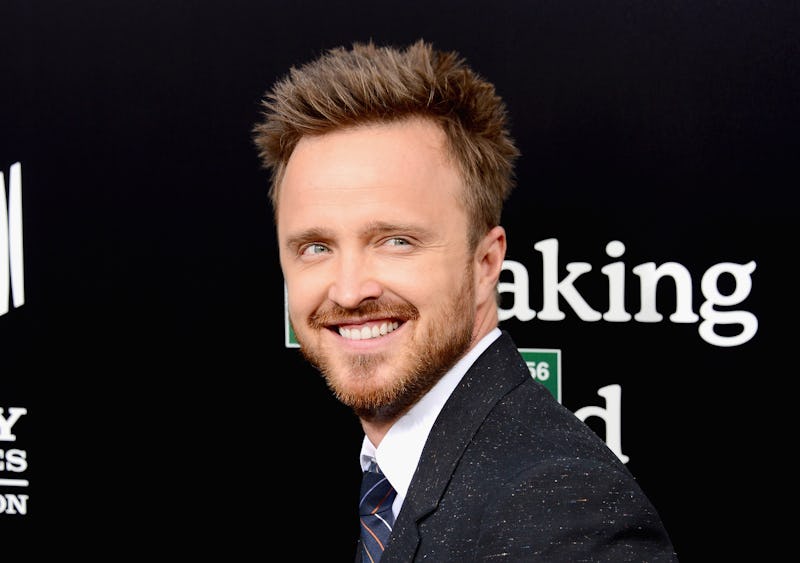 Mark Davis/Getty Images Entertainment/Getty Images
Breaking Bad is one of the greatest TV shows of all time, and I will fight anyone who tries to dispute that. Obviously, I'm incredibly thankful that Better Call Saul Season 3 will be released on April 10, 2017, which might make me slightly less angry about Walter White's fate for a while. But, as if we weren't all excited enough about the next installment of Saul Goodman's journey, it was revealed on Tuesday that Aaron Paul might be in Better Call Saul Season 3. Be still my beating heart. Jesse Pinkman, is that you?
In an interview on The Ellen DeGeneres Show, Paul was extremely evasive about his involvement in the Breaking Bad spin-off, but seemed to indicate that he'd already shot some scenes for the show. DeGeneres interrogated the actor, asking, "So maybe you're going to be on?" to which Paul replied, "Yeah, could be." However, while Paul reiterated that he would "love to be on" Better Call Saul, he refused to commit either way.
Despite questioning from the host, Paul played coy about his involvement in the series. But clearly he knows how much fans would love to see his character, Jesse Pinkman, onscreen once more. So will Paul be in Better Call Saul this season?
Back in June 2015, he joked via Periscope that Jesse Pinkman was getting his own spin-off. Fans were incredibly disappointed when it turned out that the actor was only kidding, and the enthusiasm shared on social media after the prank showed just how much viewers love him. If Paul is returning to the Breaking Bad family with an appearance on Better Call Saul, the series is likely to attract a huge audience, as his character was so beloved — and not to mention super hot.
The Need For Speed actor teased, "Maybe I already shot the..." and appeared to drop a Freudian slip when he said "we just... or they just wrapped" filming of the show. It certainly sounds as though Jesse Pinkman and Saul Goodman could be reuniting in Better Call Saul Season 3. April 10 needs to hurry up already.