'Westworld' Just Added A Major New Player That Will Delight 'Breaking Bad' Fans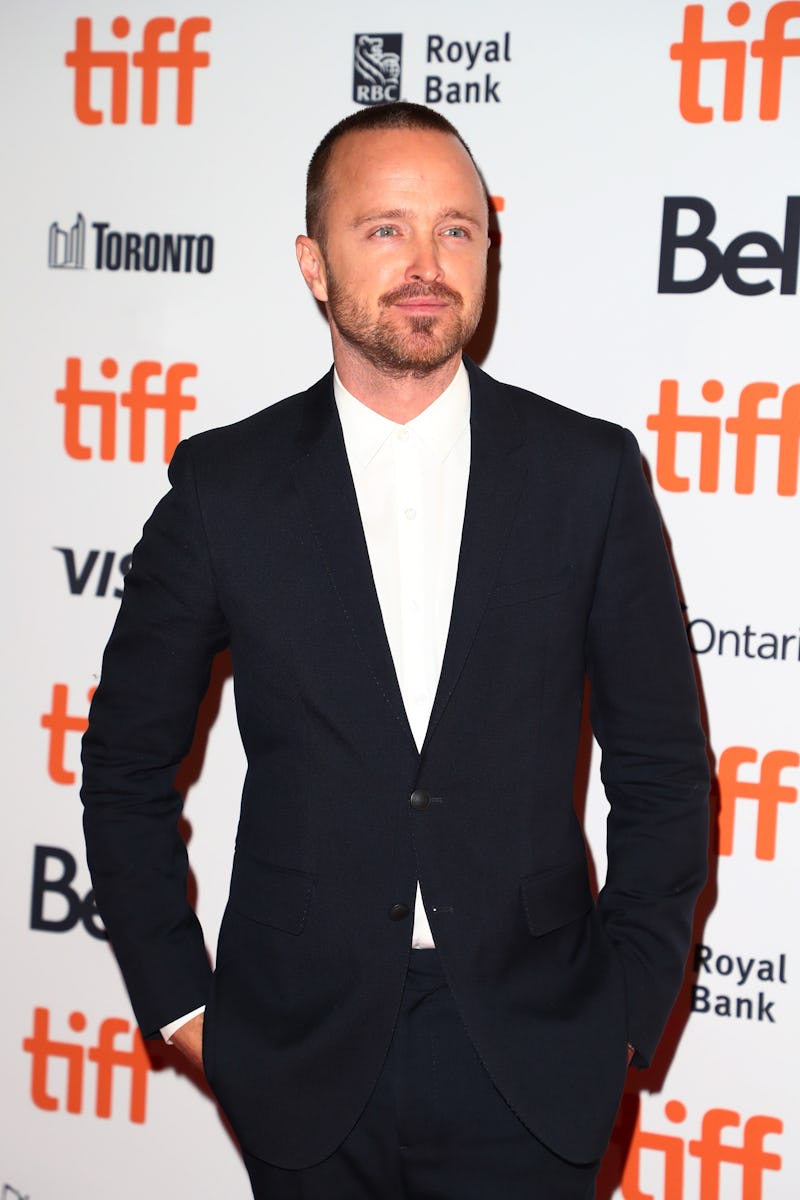 Joe Scarnici/Getty Images Entertainment/Getty Images
Two TV fandoms have just majorly collided. On Thursday, Deadline reported that Aaron Paul will be in Westworld. While no details about his character were announced, the Breaking Bad actor will reportedly be a series regular on HBO's sci-fi series when it returns for Season 3. The Season 2 finale aired in June and it certainly was a game changer for the series, which means that Paul's Westworld character could go in a number of directions.
Paul gained major notoriety and earned three Emmys for his role as Jesse Pinkman in Breaking Bad during its five-season run. Since then, he has been busy voicing Todd in BoJack Horseman and starring in Hulu's The Path. But The Path was canceled in April 2018 after its third season, leaving his schedule a little more open. And while Paul will also be starring in the Apple series Are You Sleeping as a convicted murderer opposite Octavia Spencer, he apparently has time for more violent delights in Westworld. In response to the casting announcement, Paul channeled his inner Bernard and tweeted, "I feel like I'm in a dream Dolores. Can you wake me up from this dream?" He added on Instagram how he's "blessed and humbled" to finally be able to share this news.
Co-creator and co-showrunner Lisa Joy told The Hollywood Reporter after the Season 2 finale that Season 3 is "going to be a whole new world" for Westworld. Paul will supposedly be a part of this new world, but how exactly his character will fit into the narrative is a major question mark. Spoilers for Westworld Season 2 ahead. At the end of Season 2, Dolores' consciousness escaped the park through the host body of Delos executive Charlotte Hale (Tessa Thompson). She then rebuilt her own body and also rebuilt Bernard. With multiple hosts out of the park, the possibilities for Paul's character are wide open. He could be a host in the parks, or a human in the real world — truly the sky's the limit.
The most likely scenarios are that Paul will play either someone powerful within Delos or a host. (Or perhaps both, if the Man in Black's storyline is any indication.) But Paul's tweet mentioning Dolores could be a clue that he'll be interacting with Evan Rachel Wood's character in the outside world. Or, as reporter Kim Renfro joked on Twitter, maybe Paul himself will be portraying a version of Dolores. After all, this is Westworld — and evidently, the more Doloreses, the better.
Joy told THR in that post-finale interview that "the main story will not be leaping that far forward" for Season 3. She also expressed the importance of the Bernard-Dolores plot. "I'm really curious creatively to see what happens to Bernard and Dolores, now that they've finally earned their freedom. I think we'll see a lot more of that," Joy said. So perhaps that's another clue that Paul will be involved with these freed hosts.
No matter who he portrays, viewers are a long way off from seeing Paul in Westworld Season 3 since there's a possibility that the series won't return until 2020. It's possible eager TV fans will see Jesse Pinkman return to TV in Better Call Saul before they see Paul in Westworld. But the wait gives fans plenty of time to theorize about how Paul will fit into the maze that is Westworld.