5 People Share How They're Coping With News About Abortion Ban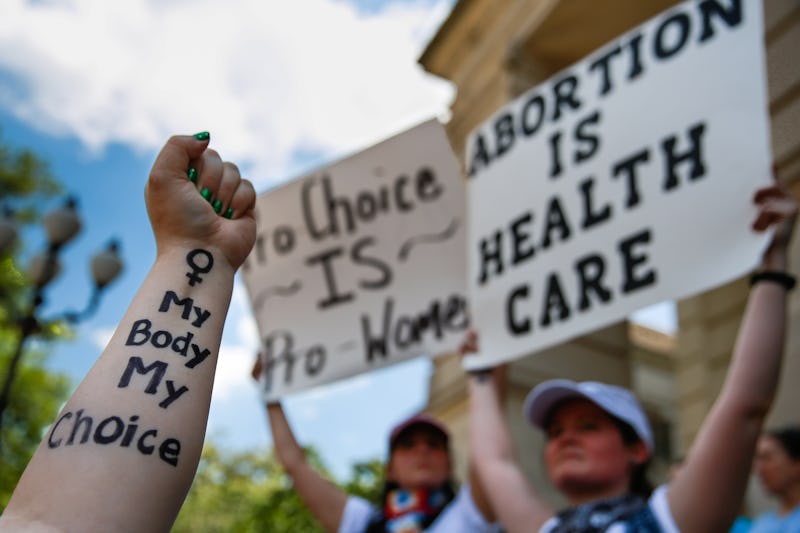 Elijah Nouvelage/Getty Images News/Getty Images
Last week, when the Alabama senate passed a near-total ban on performing abortions in the state, people all across the country expressed grief, anger, and frustration at the news, which followed just on the heels of a "heartbeat bill" — aka a ban on abortion once a fetal heartbeat is detected — passing in Georgia. This abortion ban news was then followed by a bill in Missouri, which banned abortion at eight weeks' gestation. Each of these pieces of legislation is expected to be blocked by legal challenges, with the ultimate goal of setting enough precedents to overturn Roe v. Wade. But while abortion continues to be legal in the U.S., for many people, constantly hearing about these threats to Roe v. Wade can have a huge impact on their mental health.
No matter how you feel about abortion personally, the fact remains that nearly 70% of people across both Democrats and Republicans don't want to see Roe overturned, according to a 2018 poll of almost 1,500 people from the Kaiser Family Foundation. Abortion is an essential component of reproductive healthcare, and the prospect of losing access to this right can trigger feelings of hopelessness, despondence, anger, and more.
From people who've had abortions, to reproductive rights organizers, to non-binary folks affected by these bans, everyone will have their own unique experience relating to this news. Bustle asked five women and non-binary folks about how they're responding to and coping with the continued news around the bans — here's what they said.