Adam Rippon Is Retiring From Skating, But Don't Worry — He's Not Going Anywhere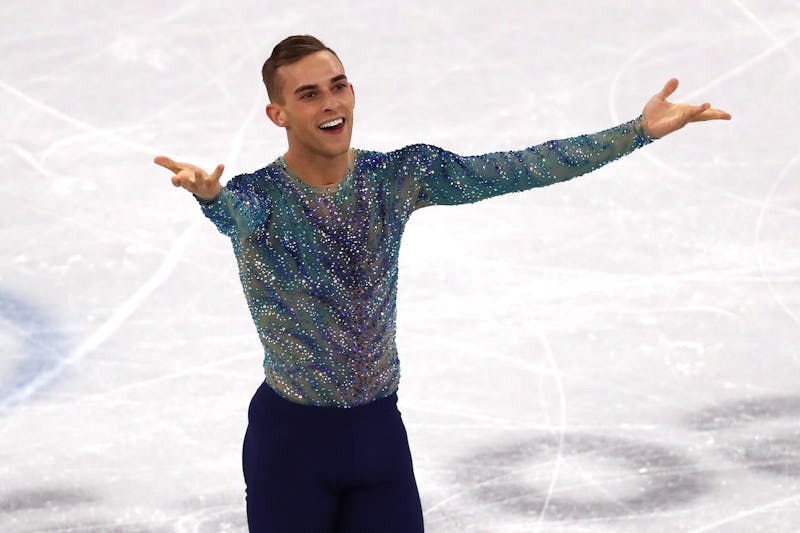 Dean Mouhtaropoulos/Getty Images Sport/Getty Images
One of the biggest joys of the 2018 Winter Olympics was watching Adam Rippon compete. But that was a once-in-a-lifetime even since it was announced on Monday that Rippon is retiring from figure skating. The 29-year-old athlete confirmed the news through a letter to his future self for CBS News. Rippon's retirement shouldn't come as a shock to fans. He has long been open about how his time professionally competing in the sport would most likely be coming to an end. And even though it will be disappointing not to see him take the ice at the 2022 Olympics in Beijing, there's no doubt that Rippon will be engaging in plenty of other exciting endeavors now that his time as a professional skater is through.
In June 2018, NBC Sports reported that Rippon most likely wasn't returning to the sport in a competitive capacity. "I'm still thinking about it," the always-candid Rippon had said, "but ehhh, I mean, probably not. We'll see. There's so many really amazing young people coming up. I think that it's sort of like, their time is now." But his retirement was made official on Nov. 19 in a moving letter in which Rippon addressed his past self.
Rippon confirmed the news in a Twitter thread as well, where he not only said he'll take the lessons he learned from competitive figure skating with him in life, but also thanked people for "rooting for someone like me," adding, "I will always root for you too." He also sent his love to the optimistic people who believed he would compete again after the Olympics.
As his letter to his future self noted, Rippon faced hardships in his career before making it to the Olympics. He did not qualify for the Olympics Games in 2010 or 2014. And became the national champion at the age of 26, only to break his foot one year before the 2018 team was chosen. Yet, he healed and worked hard to secure his spot at the 2018 Winter Games, becoming the oldest U.S. Olympic rookie singles skater in 82 years.
Rippon charmed the world on and off the ice during the 2018 Olympics in PyeongChang, South Korea. Beyond being an incredibly talented athlete, his charismatic personality was on display in his programs and in interviews. And he made history as the first openly gay American athlete to qualify for the Olympic Games. He placed tenth in the individual competition and won the bronze medal in the team event. "You, Adam, will make the Olympic team and skate on Olympic ice, it'll be a moment you've been waiting for your entire life," Rippon wrote in his emotional letter. "It'll be crazy, wild, emotional and very exciting. The world will see your character and they will embrace you for just being yourself."
Since competing in the Olympics, Rippon has kept busy as a media — and social media — personality. He won Dancing With The Stars with his partner Jenna Johnson, beating out former skater Tonya Harding. He parlayed that into a judging gig on Dancing With The Stars: Junior, which is currently airing. Rippon also tried his hand in broadcast journalism when he interviewed Cate Blanchett for Good Morning America, and he'll appear as a guest star on Will & Grace later this season.
No matter what Rippon's future holds, he can look back on his career with pride and to his future with hope. "You've become the role model that you wished you'd had as a kid. You will look in the mirror and you will see someone you like. You will look in the mirror and finally see a winner looking back at you," Rippon wrote in his letter. "Now go out and conquer the world."
And while he's still got much of his life ahead of him, for many, it already seems like Rippon has conquered the world.