Adele Had THE BEST Reaction To Beyoncé's Epic Coachella Performance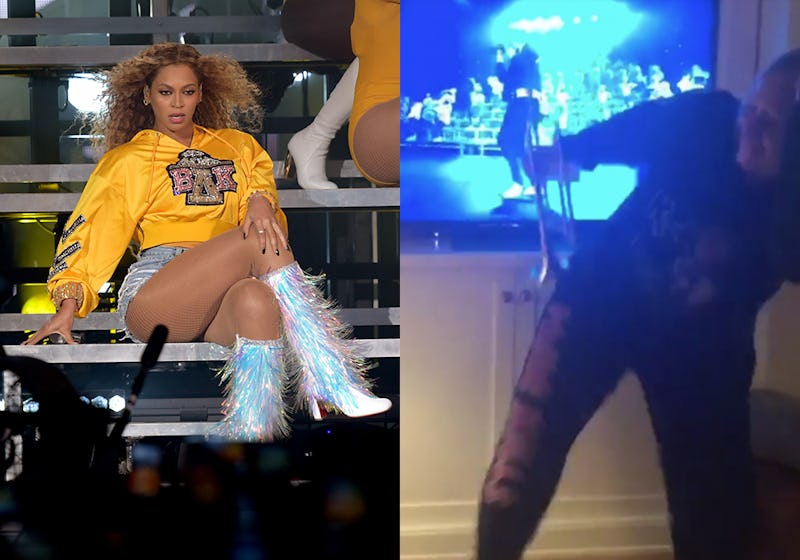 Kevin Winter/Getty Images Entertainment/Getty Images; Adele/Instagram
ICYMI, Beyoncé is headlining Coachella this year — and as expected, her performance on Saturday, Apr. 15 was off-the-charts incredible. Not only did Bey manage to make two hours of dancing, outfit-changing, and singing look completely effortless, but she also shared her moment in the spotlight with some very important people in her life. Firstly, Bey brought her sister Solange up on stage, followed by husband Jay Z, both of which were great cameos. However, one of the best moments was definitely when she had both Kelly Rowland and Michelle Williams come out for a mini-Destiny's Child reunion that was just perfect. Overall, Bey's performance was incredibly entertaining and full of talent, and everyone has been talking about how epic it was- even celebrities have gotten in on it. In fact, Adele's reaction to Beyoncé's Coachella performance with Destiny's Child has to be the most relatable thing I've ever seen.
Although Adele was not actually at Coachella, she had clearly made it a point to watch Beyoncé's performance. It looks like Adele was probably at home, hanging in sweat pants watching the set from the comfort of what seems to be her own living room — honestly, that right there is very relatable to me. Forgoing a crowded music festival to watch it in the comfort of sweatpants at home? Yes, please.
Right after Bey's set, Adele posted three little video Instagram tributes to the singer, and they are all equal parts adorable and hilarious. Here's the first one, which features Adele with a trumpet:
The second video is Adele truly feeling the beat get sicker:
And then there's this epic hair flip/head twirl move:
SAME. This is literally me whenever I'm watching Beyoncé do anything. Adele nailed it, you guys. I now need to add "watching a concert with Adele" to my bucket list.
This certainly isn't the first time that Adele has publicly announced her love and respect for Queen Bey. At the 2017 Grammy Awards, Adele won the award for Album of the Year for 25, a category Beyoncé's Lemonade had also been nominated for. During her acceptance speech, Adele gave a tearful tribute to Bey and her album, saying, "I can't possibly accept this award, and I'm very humbled, and I'm very grateful and gracious, but the artist of my life is Beyoncé. And this album to me, the Lemonade album, was just so monumental, Beyoncé, so monumental, and so well thought out, and so beautiful and soul-bearing, and we all got to see another side to you that you don't always let us see. And we appreciate that, and all us artists here f****** adore you. You are our light, and the way that you make me and my friends feel—the way that you make my black friends feel — is empowering, and you make them stand up for themselves. And I love you, I always have, and I always will."
Bey's performance was also one for the history books: she announced during her set that her appearance marked the first time a black woman had headlined Coachella in the 19 years since the music festival has been in existence. I'm pretty sure we can all agree that there was no one better for that moment than Queen Bey. Her set was truly a work of art, and so inspirational, and fans were more than thrilled with all of her accomplishments, as evidenced on Twitter:
One thing is for sure: It's going to be hard for any other artist at Coachella to top Beyoncé's performance. There's a reason everyone's calling this year's festival "Beychella" after all!