You Can Get Mimosas In A Bottle Now & Summer Day Drinking Will Never Be The Same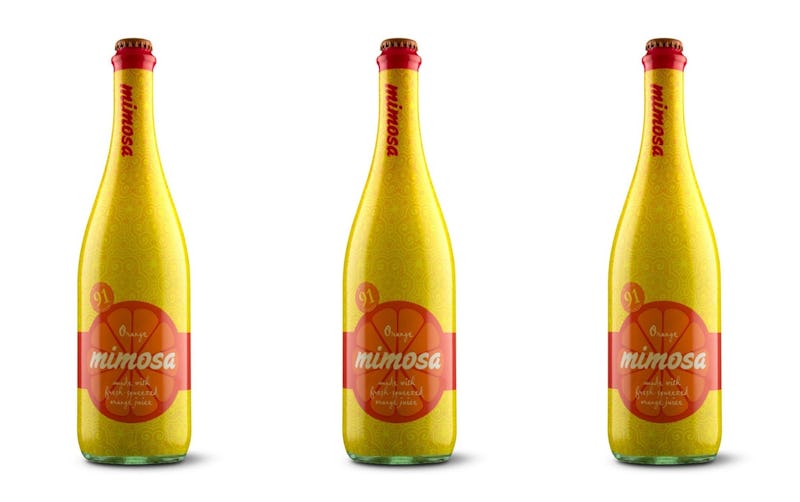 Aldi
After years — nay, decades — nay, centuries — of struggling to find creative solutions to the problem of how exactly one easily transports cocktails to consume with a delightful, warm-weather picnic spread, the brunch deities have finally smiled upon us: Aldi has bottled mimosas now, and they're only $9 a pop. Take them to the each! Take them to the park! Don't take them anywhere and just drink them from the comfort of your own home! Mimosas for everyone, everywhere, at (almost) any time!
Aldi is fairly well-known for its in-house wine selection; indeed, if you recall the wine advent calendar that went viral during the 2017 winter holiday season, you're already familiar with some of the grocery chain's boozy offerings. Aldi includes "award-winning" among its wine descriptors, too, although as is often the case with wine, your mileage may vary depending on your personal preferences. Taste testers for Decanter found plenty to recommend with regards to Aldi's wines, for example, while VinePair's panel of tasters were much less complimentary.
Knowing this, then, it was really only a matter of time before the brand began tapping into the portable summer beverage market — especially given the recent proliferation of canned and bottled boozy drinks intended for picnics and beach trips. Canned wine? Trader Joe's has you covered. Portable G&Ts? Gordon's to the rescue — and they're pink, too. A four-pack of individually served spritzers? Hi there, Barefoot.
And although Aldi's Orange Mimosa isn't a single-serving offering — according to Refinery29, the bottle contains 750ml, just like a regular bottle of wine does, meaning you'll need some cups to share it around — it does fill that same void: Instead of having to haul a bottle of bubbly and a bottle of orange juice to your picnic location, then take the time to actually mix the drinks, you can just pop the top on a single bottle and go to town. (Don't forget to bring a bottle opener with you — you'll need it.)
Worth noting, however, is the fact that the Orange Mimosa is a bit different than the typical mimosa: It's made with dry white wine and orange juice, rather than with champagne or Prosecco and orange juice. As such, it lacks the bubbles that — for some, at least (myself included) — are part of the draw of the cocktail in the first place. Even so, though, the drink sounds tasty: According to Cosmo's Danielle Tullo, who's had the chance to sample Aldi's bottled Mimosa, the drink is "pretty effing delicious" despite not being "your standard Prosecco and OJ combo." Wrote Tullo, "Its dry white wine pairs well with the freshly-squeezed orange juice to deliver your favorite breakfast cocktail sans any sweet aftertaste." And at $9 a bottle… well, it's hard to argue with a price like that.
Oh, and, fun fact: Apparently these drinks have been available before; there are a bunch of tweets from 2017 floating around featuring bottles of Orange Mimosa. I'm not sure how so many of us missed them last time round, but hey, at least we know about them now!
Also, I, uh, just realized that what I've considered to be a mimosa for pretty much as long as I've known what a mimosa is, is actually… not a mimosa. It's a Buck's Fizz. The difference, it seems, in the ratio of champagne to orange juice, as well as in the method of serving: According to Difford's Guide For Discerning Drinkers, a mimosa comprises one part orange juice to one part champagne and is served in a wine glass with ice; a Buck's Fizz, meanwhile, is made up of one part orange to two parts champagne and is served without ice in a champagne flute. I tend to like my champagne cocktails with more champagne and less juice, so... I guess I've been making myself Buck's Fizzes all this time.
Interestingly, there's also some debate about where these two drinks actually originated. It's popularly believed that head bartender Frank Meier invented the mimosa at the Hôtel Ritz Paris in 1925; additionally, it's sometimes posited that the mimosa was something of a rip-off of the Buck's Fizz, which is said to have been invented several years earlier at the Buck's Club in London. However, we're not sure if Meier actually deserves the credit for the version of the mimosa that appears in his 1930s book The Artistry of Mixing Drinks — or if the Buck's Fizz was an original creation of the Buck's Club, either. According to Extra Crispy, it's possible — likely, even — that the "'champagne-orange'… was a popular combination served in French wine country" which was later "picked up and rechristened with snappier names at both the Ritz Bar and Buck's Club."
In any event, the combination of fizzy white wine and orange juice began to pick up steam in both the UK and the United States in the '60s thanks to a news report written by the Sydney Morning Herald's London correspondent about the British Royal Family. According to the report, writes Robert Moss at Extra Crispy, "The royal family has begun a new fad in drinks among London's fashionable Mayfair set. The Queen, the Duke of Edinburgh, and the Queen Mother all have adopted a Champagne cocktail they call mimosa." The Queen, it seems, was introduced to the drink courtesy of Earl Mountbatten of Burma.
And now, many decades later, the mimosa — or Buck's Fizz, or champagne-orange, or whatever you want to call it — has become a brunch staple familiar enough to warrant the creation of a pre-mixed, pre-bottled version perfect for summer brunching. Find your nearest Aldi location here and give them a call to see if they've got the chain's Orange Mimosa in stock. Cheers!