Alex Borstein's Emmys Speech Was Both Totally Filthy & Really Touching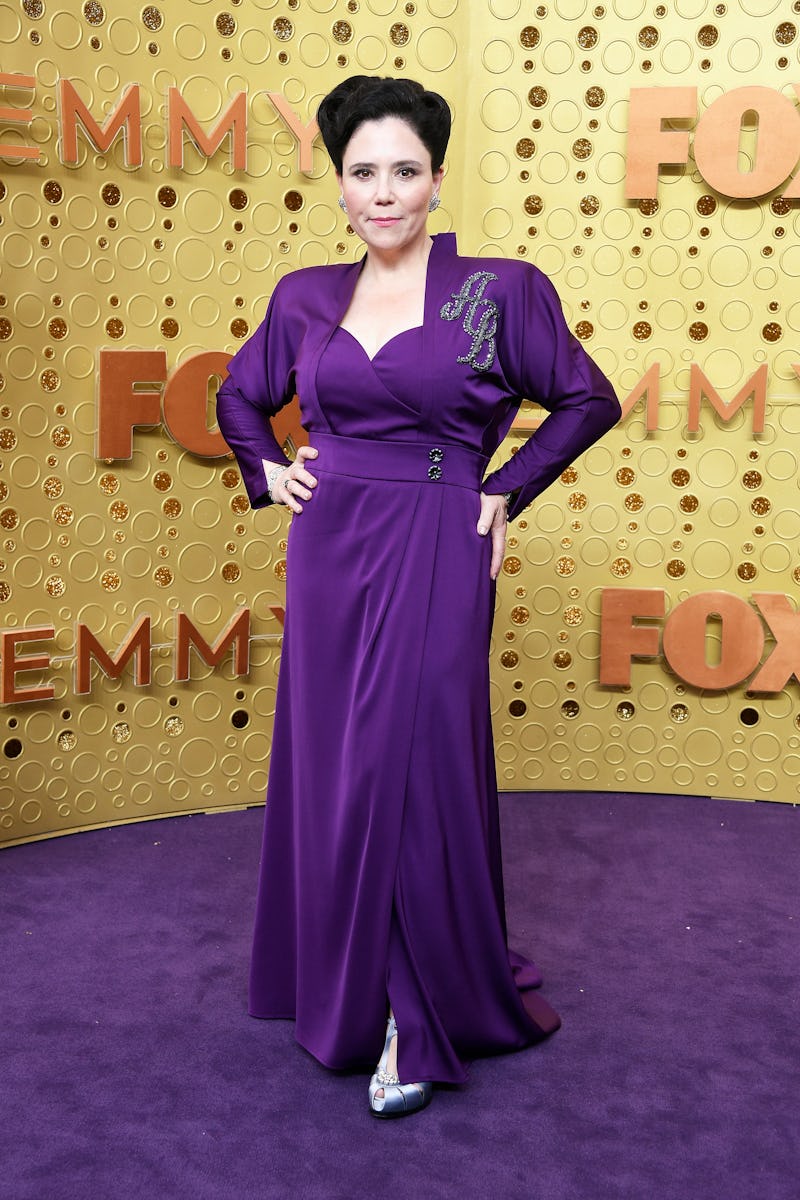 Frazer Harrison/Getty Images Entertainment/Getty Images
No matter her undergarment situation, Alex Borstein's 2019 Emmys speech honored women everywhere — and gave them a call-to-action. While she started off her acceptance speech demonstrating exactly why she won Outstanding Supporting Actress in a Comedy Series for The Marvelous Mrs. Maisel, Borstein did get serious when told a story about her grandmother. After explaining how her grandmother survived the Holocaust through her bravery, Borstein gave this message to women: "Step out of line, ladies!" This story is a personal moment in her family's history, but Borstein sharing it also demonstrates how women have the power to change their future.
Borstein started off her speech saying how people were angry at her during last year's Emmy because she didn't wear a bra. This year, she cheekily said she decided to go sans underwear. These small acts of undergarment defiance were appropriately used for laughs in her speech for winning for her role as Midge Maisel's stand-up comedy manager Susie. But she went on to show how someone commenting on her lack of bra is actually part of the larger problem of how society treats women. And like how her grandmother bravely did when faced directly with death during the Holocaust, Borstein encouraged women to "step out of line."
"I want to dedicate this to the strength of a woman," Borstein said. She specifically called out Maisel creator Amy Sherman-Palladino, the women of the cast and crew of Maisel, her mother, and her grandmother. Borstein told HuffPost in 2015 how her grandmother had passed away just a few years earlier. And in her Emmys speech, she shared the incredible story of how her grandmother survived the Holocaust. She asked a guard, "What happens if I step out of line?" When he replied he didn't have the heart to shoot her, "But somebody will," Borstein's grandmother took that risk. "She stepped out of line," Borstein said. "And for that, I am here and for that, my children are here. So step out of line, ladies. Step out of line."
Beyond her grandmother's courage giving Borstein her life, the comedian has credited her grandmother for some of her most well-known roles. She told HuffPost how her Miss Swan character from MADtv was a something of a tribute to her grandmother. And she told the Jewish Journal in 2017 that Susie reminds her of both her grandmother and mother (her mother was a child survivor of the Holocaust). "They were tough broads who kept reinventing themselves, and there's a piece of Susie in there," Borstein said.
For a speech that began with her joking that her seat in the Microsoft Theater would need to be cleaned due to her sweaty, nervous, unprotected vagina, Borstein shared a harrowing family story of a genocide that had a remarkable ending. She did keep it funny on social media too when Borstein joked how she placed a bet for Olivia Colman to win Outstanding Supporting Actress in a Comedy Series over her.
But women standing up for themselves and bucking what's expected of them is no laughing matter — and Borstein's words should inspire women watching the Emmys just as her grandmother inspired her.