These Celebs Wore ACLU Ribbons To The 2017 Oscars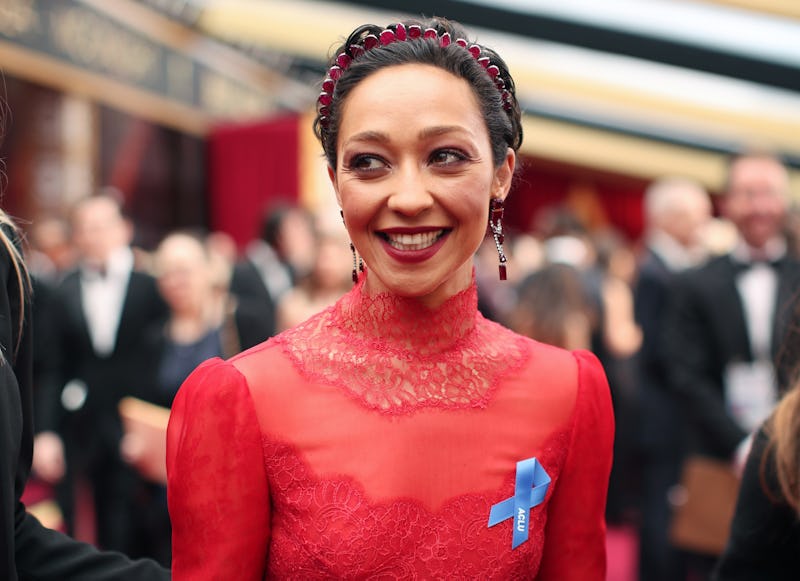 Christopher Polk/Getty Images Entertainment/Getty Images
The Oscars red carpet is always packed with glimpses of stars carrying the latest and most stylish (and sometimes quirkiest) accessories. But like other 2017 awards shows, the Oscars at least one political moment, including celebs wearing ACLU ribbons on the red carpet.
The ACLU ribbons spotted on Best Actress nominee Ruth Negga, Best Original Song nominee Lin-Manuel Miranda and his mom, model Karlie Kloss, and actress Busy Philipps, are part of the "Stand With ACLU" initiative. According to PEOPLE, a statement from the ACLU encouraged "[n]ominees, presenters, musicians and guests [...] to wear the ribbon to show their support 'for the rights and civil liberties guaranteed by the Constitution to everyone in the United States.'"
Since Donald Trump's election, the ACLU has been publicly keeping tabs on his policies, which the ACLU says collectively violate the First, Fourth, Fifth, and Eighth Amendments. Celebs visibly standing with the ACLU as it repeatedly files lawsuits against the Trump administration are making a statement in support of groups the Trump administration has targeted, including Muslims, kids who need free lunches, and most recently, transgender people.
One thing's for sure: The world has officially moved past the place where bringing politics to awards shows was a no-go. Check out the stars' proudly pinned ribbons below.
1. Ruth Negga
Negga looks like pure royalty, and her commitment to activism reflects the role she's nominated for — civil rights activist Mildred Loving.
2. Lin-Manuel Miranda & Luz Towns-Miranda
This mother-son ensemble is easily one of the night's fan favorites.
3. Karlie Kloss
Kloss's ribbon placement is A-plus — just like her dress.
4. Busy Philipps
Philipps has worn feminist clothing before, so her move here is no surprise, but that doesn't mean it's any less nice to see.
5. Barry Jenkins
The Moonlight director rocked a prominent ACLU ribbon with his tuxedo, and looked incredibly dapper in the process.
Looks like 2017 is going to be the year of classy — and sometimes not so chic — political statements. If it means that we'll see more statements like this, then so be it.