These Are ALL The Exciting New Movie Trailers That Aired During The Super Bowl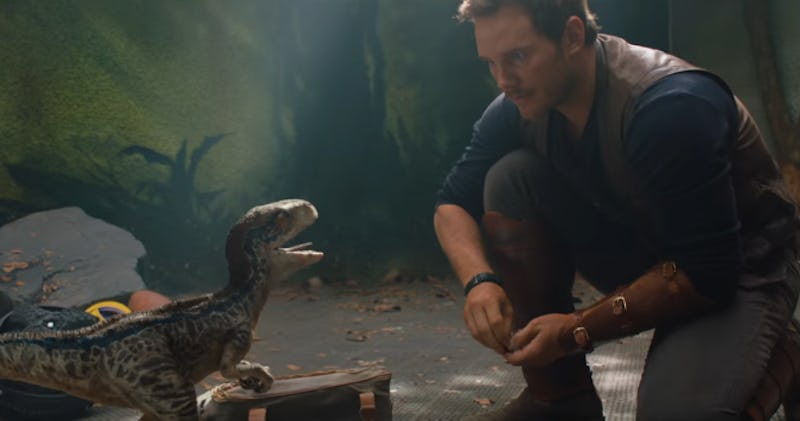 Universal Pictures
Whether or not you're a sports fan, the Super Bowl is a huge deal. Between all of the hilarious commercials and Justin Timberlake's halftime show, there are plenty of moments everyone is paying attention to — even those of us who don't care whether the Eagles or the Patriots come out on top. One seriously notable thing about this year's game? Some long-anticipated movie trailers aired during the Super Bowl commercial breaks — and fans have a lot to say about them, too.
Between Jurassic World: Fallen Kingdom, Solo: A Star Wars Story, The Cloverfield Paradox, and more, there's a trailer for everyone among the Super Bowl LII commercials. It looks like the Super Bowl episode of This Is Us was far from the only thing movie and TV fans had to look forward to on Sunday night. Here are all the new movie trailers that aired during the Super Bowl LII.
Jurassic World: Fallen Kingdom
It turns out that Michelob Ultra ad wasn't the only time Chris Pratt would be gracing our TV screens during the Super Bowl LII. A new trailer for Jurassic World: Fallen Kingdom aired during the game, and it's sure to please fans of the dinosaur-filled franchise. The movie hits theaters on June 22.
Solo: A Star Wars Story
The Han Solo movie got its own teaser trailer during the Super Bowl, and there's a lot packed into those 45 seconds. The trailer also features a look at Donald Glover as Lando Calrissian, which has already inspired plenty of Star Wars memes.
The Cloverfield Paradox
One of the biggest Super Bowl Sunday surprises — other than Kylie Jenner's announcement about her baby's birth — was Netflix's reveal that The Cloverfield Paradox will be available to stream after the game. The highly anticipated movie, produced by J.J. Abrams, was previously shrouded in mystery.
Still, while the new Cloverfield trailer is a surprise, some fans expected Netflix to do something big at the Super Bowl LII. After all, the streaming giant shared the trailer for Stranger Things' second season during last year's Super Bowl, Deadline points out.
Mission Impossible: Fallout
Tom Cruise is stepping into Ethan Hunt's shoes once again. The trailer for Mission Impossible: Fallout aired during the Super Bowl LII, and fans of the action series will want to see it ASAP. The movie hits theaters on July 27.
Skyscraper
Dwayne Johnson fans will be happy to know he has another movie on the way. Skyscraper hits theaters July 13, and based on this teaser trailer, it's bound to be an action-packed film. Johnson plays a former FBI agent, Will Ford. When Will's family members get stuck in a skyscraper "240 floors in the air," things get personal as he tries to save them. The full Skyscraper trailer didn't air during the Super Bowl, though — the full release was saved for its debut on The Tonight Show Starring Jimmy Fallon.
Avengers: Infinity War
Not to be left out of the Super Bowl movie trailer game, Disney released a new trailer for Avengers: Infinity War on Sunday. The clip features plenty of Marvel superheroes: Iron Man (Robert Downey Jr.), Thor (Chris Hemsworth), Captain America (Chris Evans), Black Widow (Scarlett Johansson), Spiderman (Tom Holland), and Doctor Strange (Benedict Cumberbatch). Oh, and Baby Groot is there, too, though he's more of a Young Adult Groot now.
With all of these action-packed movie trailers, the Super Bowl LII's commercial breaks were just as entertaining as the game itself. With all of these sequels (and Skyscraper) to look forward to, 2018 definitely won't be a dull year for moviegoers.