All The Beto 2020 Hype Ignores The Gains Made By Women & People Of Color in 2018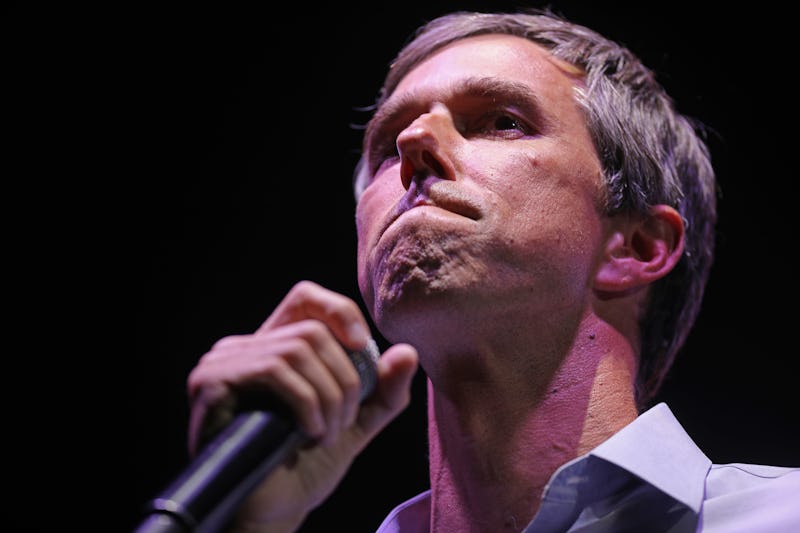 Chip Somodevilla/Getty Images News/Getty Images
In this op-ed, Bustle news editor Alexandra Svokos questions the hype for Beto 2020 in the aftermath of huge gains for women's and people of color's representation in government.
Within hours of it becoming clear that he'd lost the Senate election in Texas, Democrats began calling for Beto O'Rourke to run for president in 2020. Those pleas kept coming in the days after Nov. 6, and #Beto2020 proliferated on social media. All that enthusiasm for a straight, cis, Irish-American man who lost his election stands in sharp contrast to the praise for the history-makers of 2018: the women — especially the women of color — and LGBTQ people who won groundbreaking races.
The relative success of O'Rourke's campaign shouldn't be underestimated: In a historically red state, he lost to Sen. Ted Cruz by 2.6 percentage points, per The New York Times. O'Rourke fever could arguably have contributed to higher turnout rates in Texas. It's also significant that he was able to generate national enthusiasm and, in turn, raise a ton of money.
These are all impressive accomplishments, and they're also things a person has to do to successfully run for president. But going all in on O'Rourke for 2020 ignores the compelling women and people of color who actually won their own tough elections (or also went down fighting). It's worth examining why the "cute" white guy is being encouraged to fail up.
A Politico/Morning Consult presidential primary poll last week put O'Rourke in third place among Democratic voters, with Joe Biden and Sen. Bernie Sanders coming ahead of him — at least O'Rourke's relatively young.
"If he decides to run, he will be in the top five," investment banker Robert Wolf told Politico in an article headlined "He's Barack Obama, but white." "You can't deny the electricity and excitement around the guy."
The enthusiasm for O'Rourke feels like an echo of the enthusiasm for Sanders following the 2016 presidential primaries, which he lost by over 3 million votes, overall, per Real Clear Politics. Sanders and O'Rourke are approachable men unafraid to talk about bold progressive ideas, and they both drummed up enthusiasm among younger voters and got the support of musical acts with "cool" cache. The Democratic Party has certainly moved farther left since 2016, following Sanders' ideas from the campaign — he clearly had an influence, and Democrats at large learned from that.
But both Sanders and O'Rourke have less to lose than non-straight-white-male candidates when sharing ideas some may find "radical" — and by sharing them passionately. Studies have found that implicit bias moves people to trust white faces more than others, and that men are often listened to more than women at the office. White men are not written off as crazy, angry, unkempt, or unintelligent in the way that women (and especially women of color) are in professional settings.
As Democrats position themselves as the party of women, immigrants, and diverse identities, it's jarring to see the person who most closely resembles status quo politicians getting such fevered encouragement to run. Who a party chooses to champion sends a message about that party's values. And while O'Rourke can surely discuss issues of systemic discrimination — and by all means, white men can and should bring up these issues — he lacks the personal experience to fully understand it.
In 2018, women and people of color pushed progressive policies and won elections, many of them bucking expectations and getting national attention along the way. You can see this from Deb Haaland in New Mexico to Lucy McBath in Georgia to Ayanna Pressley in Massachusetts. While they'll all likely be too busy in their new seats in Congress to launch a presidential campaign in 2019, Stacey Abrams and Andrew Gillum will have some spare time, since their contested races (for Georgia and Florida governor, respectively) did not end in their favor either.
Then there are those possible 2020 contenders already in Congress who pundits don't seem particularly excited about — think Sens. Kamala Harris, Cory Booker, Kirsten Gillibrand, maybe even Amy Klobuchar and Mazie Hirono. They may be expected candidates, but that doesn't make them any less groundbreaking (and to the argument that they're tired because they're part of the "establishment:" O'Rourke's a member of Congress, too.)
It's disappointing, if not unexpected, that O'Rourke is getting all the encouragement and support in a year made remarkable by women and people of color. This is especially true given that he has said he's not sure what he'll do next, or if he'll run for anything.
As for Stacey Abrams? She said on Sunday she's "planning to get back into the ring."