One Of The First Native American Women Elected To Congress Shares Her Plans For Washington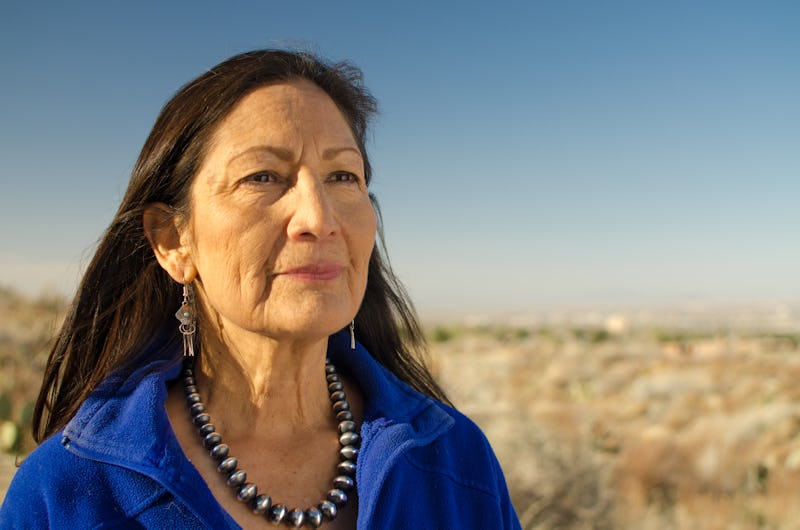 Michael Gorman/Courtesy of Deb Haaland
The newest congresswoman-elect for New Mexico's 1st Congressional District may be going to Congress "humbly," as she put it, but that won't stop her from fighting for universal health care and real climate change solutions as a freshman representative. As one of the first Native American women elected to Congress, Deb Haaland wants the nation to know she's heading to Washington to stand up for everyday people.
"I feel like one of the reasons why my campaign resonated so much with the people of District 1 here in New Mexico is because I have lived the struggle, like many, many New Mexicans have," Haaland, 57, tells Bustle the day after her historic win. "I know what it's like for single moms across the state and across this district. I go to Congress humbly, knowing what it's like to struggle, and being a voice."
The former chair of the New Mexico Democratic Party didn't face a particularly tough general race after defeating five other congressional hopefuls in her Democratic primary in June, as Democrats have held the district since 2009. But that first win put her on the same national stage as many of the other women of color who ran and won in the 2018 midterms.
Together, Haaland and Sharice Davids, who unseated Republican Rep. Kevin Yoder in Kansas' 3rd District on Tuesday, will make up the first class of Native American congresswomen — a historic moment that only took 229 years. Haaland chooses to look on the bright side, however, pointing out that she and Davids were among an onslaught of diverse candidates who won this year.
"I just feel like overwhelming, Americans want a change," Haaland says. "Americans elected more women of color this time around. We made a decision to step out, work hard, and elect some folks because representation matters and diversity matters."
For Haaland, representing her district will mean fighting for the thousands of indigenous women and girls who go missing each year, as well as working to prevent sexual assault on reservations. But when it comes to what she hopes to accomplish her first year in office, Haaland admits that she'll have to wait and see how Washington greets her.
"I've never been a congresswoman before, but I'm going stick to what I promised New Mexico District 1 voters I would do, and that's fight climate change, move as much as I can toward a renewable energy economy, [and] make sure that people have health care," she says.
Haaland has a few short months before heading across the country to Washington D.C., and she hopes her win sent the message this week that Native American women can run for office and win. Whether you live in a red state, a blue state, or purple state, she encourages young Native American women to get more involved in local politics, run for class president, and continue to prove that women of all backgrounds deserve a seat at the table.
As she put it, "Don't be afraid to be a leader."