These Photos Take You Inside The Actual 2017 Met Gala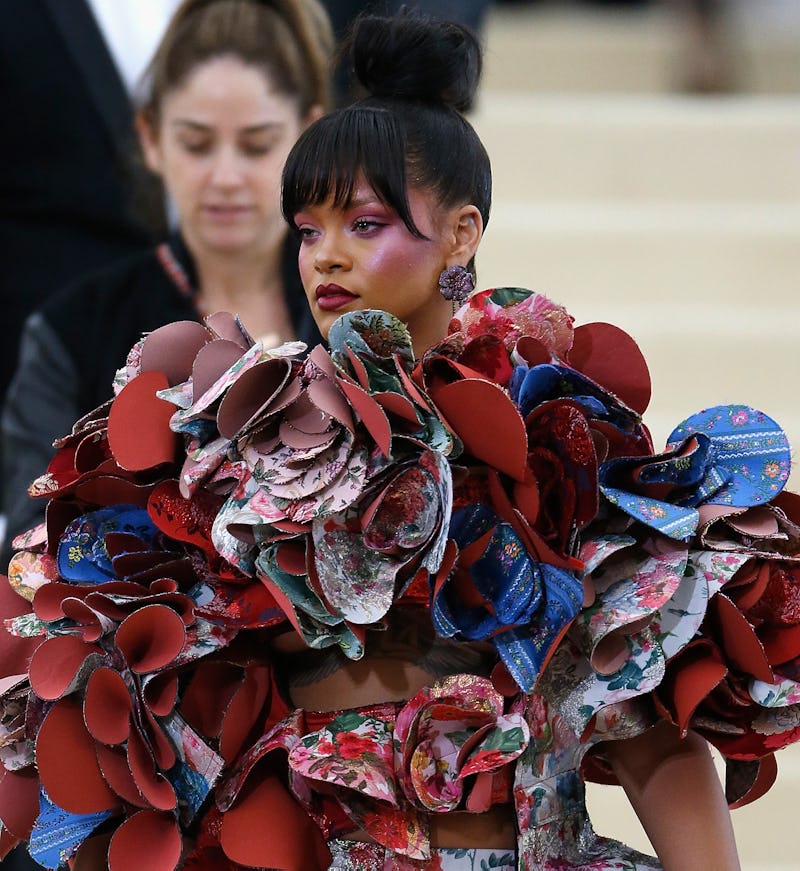 John Lamparski/Getty Images Entertainment/Getty Images
Most of us view the Met Gala as an event where celebs outdo one another in gorgeous, couture ensembles. But what happens inside the Met Gala, which is essentially the biggest and most fashion-y red carpet of the calendar year? All I know for sure is that celebs show up, walk a grand staircase that looks a mile long and starlets require assistance getting up those steps due to their epic dresses and trains, and then disappear inside. There's not much coverage beyond the carpet and the clothes.
Also, the Met Gala has a "no selfie" policy to keep the event special and exclusive aka "not accessible to average pleebs." Kylie Jenner acknowledged the policy during her E! red carpet interview while announcing that she can always find a way to take a selfie. She did just that, breaking the rule with a celeb-loaded Instagram post that could rival Ellen DeGeneres' infamous Oscar selfie.
All of these facts contribute to the Met Gala mystique. As The New York Times reports, it's a fund-raising, black-tie benefit for the Metropolitan Museum of Art Costume Institute, which is the fashion arm and must fund itself. That's why it happens.
But what takes place inside, besides, dinner, drinks, celebs hobnobbing, and performances? Well, thanks to the miracle of Kim Kardashian West's Snapchat, we can enjoy this insider's look.
Zero effs given! Jenner declared she can always find a time and a way for a selfie and did so in a bathroom with her sisters KKW and Kendall Jenner, Diddy, Paris Jackson, and Lily Aldridge, among others! I can't help but wonder what sort of finger-shaking or talking to Jenner might receive from Vogue's Anna Wintour for breaking the "no selfie" rule. Notice she did caption it "annual bathroom selfie," so clearly this is a repeat and now a no-longer-covert thing.
KKW also broke the no selfie rule with her Snapchat. Perhaps AW will just let it go because #SafetyInNumbers.
Clearly, there's a lot of pouty-lipped posing going on inside. This is an Insta-worthy pose, for sure.
Kim. Donatella. Kylie. All looking fab AF.
Check out that penmanship on the place cards. It looks like all the handwriting of my Catholic school grade school and high school teachers.
There was lot of casual posing going on, too!
Rihanna had the buzziest ensemble of this year's Met Gala and she didn't change out of her bubble-and-petal-like frock after waltzing the carpet. She was committed to it. Oh, hi ,Olivier Rousteing and Kim K!
Just what you never knew you needed — an up close 'n' personal look at the diagonal slit of Kendall Jenner's La Perla gown.
KKW struck a pose with crimson-clad model Ashley Graham.
Kendall and Kylie sparkled from the back.
And there's your inside look at the 2017 Met Gala, courtesy of Kim Kardashian West.