Martha Stewart & Snoop Dogg Made Weed Jokes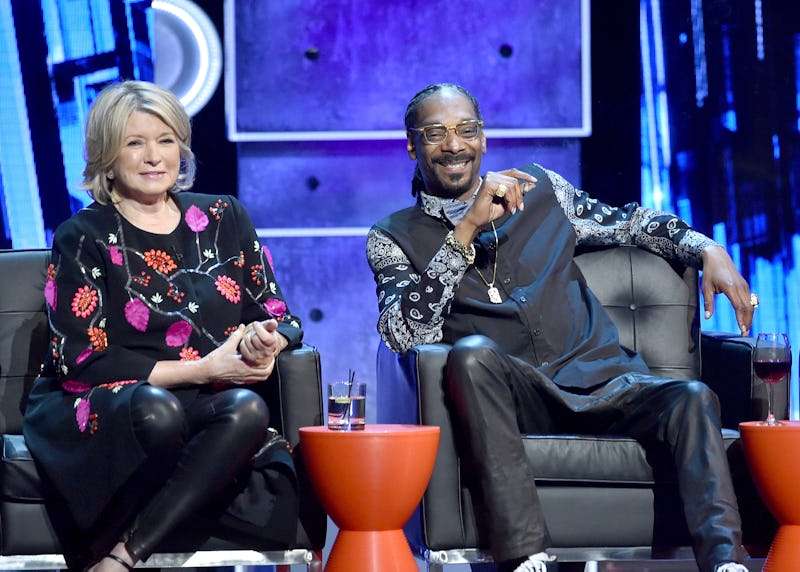 Kevin Winter/Getty Images Entertainment/Getty Images
If there's one unique pop culture duo making the magic happen right now, it's Martha Stewart and Snoop Dogg. Magical case in point: Stewart and Snoop Dogg's T-Mobile Super Bowl commercial featured some truly brilliant weed jokes. The commercial took the golden opportunity to riff on Snoop Dogg's notoriously public use and love of marijuana. With Stewart also swooping in to make some great weed puns, the commercial quickly became one of the best of Super Bowl LI.
It may have only been a 30-second spot, but believe me, this commercial really packed in the puns and one-liners about marijuana. The set-up was simple: Stewart was extolling the virtues of T-Mobile's unlimited data offer to her bestie, Snoop Dogg. In reply, Snoop said, "It's all that and a bag of —", to which Stewart proceeded to fill in the blank. The commercial then made some truly great weed jokes, as well as jokes that were more in Stewart's lane of cooking and home decorating.
The first fill-in-the-blank answer that Stewart gave to Snoop Dogg's "It's all that and a bag of" was perfect: "Purple cushy throw pillows?" For those who may have missed it, this was a pun on a strain of marijuana called Purple Kush. But things only got more weed-tastic from there.
Stewart continued to offer up suggestions to Snoop Dogg and they went a little something like this:
"Herb-Roasted Lamb Chops?"
No, not that. But Stewart had other suggestions on how to best describe the greatness of unlimited data.
"Greenery? For Your Topiary Garden?"
Snoop Dogg didn't think unlimited data was like a bag of greenery either, despite the fact that Stewart's version of greenery was pretty awesome.
"Pot?"
That caught Snoop Dogg's attention, but it wasn't the right answer.
"Can Of Bisque?"
A truly great pun on the word "cannabis," courtesy of Stewart.
Snoop Dogg finally agreed that the amazing unlimited data T-Mobile was offering was just as great as a smartphone sweater. Not exactly where I thought this ad would end, but hey, it was pretty dang fun to watch unfold.