Allbirds' New Salmon-Colored Shoe Is Inspired By A Lox Bagel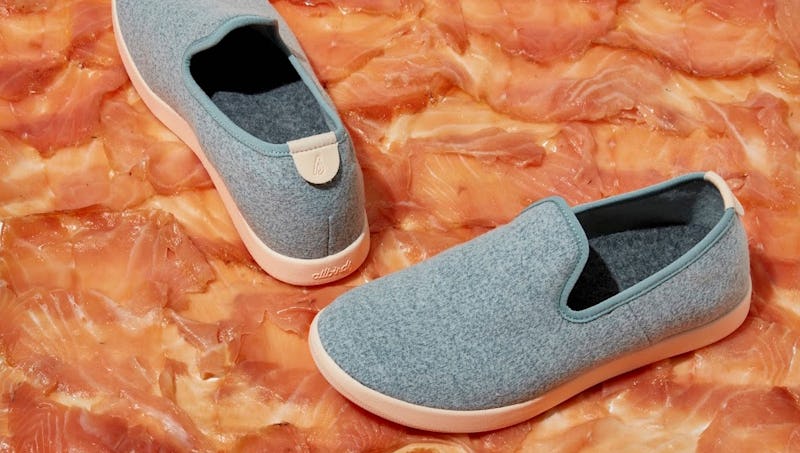 Courtesy of Allbirds
By now, you've probably seen more than a few pairs of Allbird sneakers out and about (and maybe you've jumped on the comfortable bandwagon yourself). But as beloved as their classic lace-up style is, one of their latest styles is a shoe truly after your own heart. There's a new salmon-colored Allbirds wool lounger shoe that's inspired by a lox bagel, and though that admittedly sounds a bit weird, they just might be the shoe your footwear wardrobe is missing.
The new shoe is a part of the "Allbirds And" collection, which is a city-by-city program that partners with local businesses that do things a little differently when it comes to their craft (just like Allbirds). Right now, they're collaborating with Downtown Los Angeles businesses, one of which is Wexler's Deli, hence the lox bagel connection.
The loungers are a slip-on style, and the special edition Wexler's Deli pair has a gray upper and a salmon-colored sole. It'll be available online, and if you live in L.A., you can also find them at the Allbirds pop-up in Grand Central Market until the end of July, along with special-edition shoes inspired two other businesses.
One of their other collaborators is Boyce Studio, a handmade wood goods studio. The wool lounger inspired by them has an ash-colored sole instead of salmon. Finally, Allbirds has partnered with P.F. Candle to create a shoe with a neurtal wax-colored sole.
These business will also add their own Allbirds-inspired flair to the pop-up at Grand Central Market — Boyce Studio created a succulent planter that channels the Allbirds logo, and P.F. Candle crafted a scented candle inspired by a region in New Zealand (where wool is a-plenty). And of course, Wexler's will serve lox bagels.
Even if you don't live in L.A., you can still order all three of the L.A. business-inspired wool loungers on their website. Here's a look at them.
1. Wexler's Salmon Wool Loungers
Wexler's Salmon Wool Loungers, $95, Allbirds
This salmon color is also sort of the perfect shade of millennial pink.
2. Boyce Ash Wool Loungers
Boyce Ash Wool Loungers, $95, Allbirds
Together, light gray and charcoal gray are the perfect neutral color combo.
3. PF Wax Wool Loungers
PF Wax Wool Loungers, $95, Allbirds
The ivory wax color is one of the most versatile hues around.