Amber Heard Had Nothing To Do With Johnny Depp's Trump Comment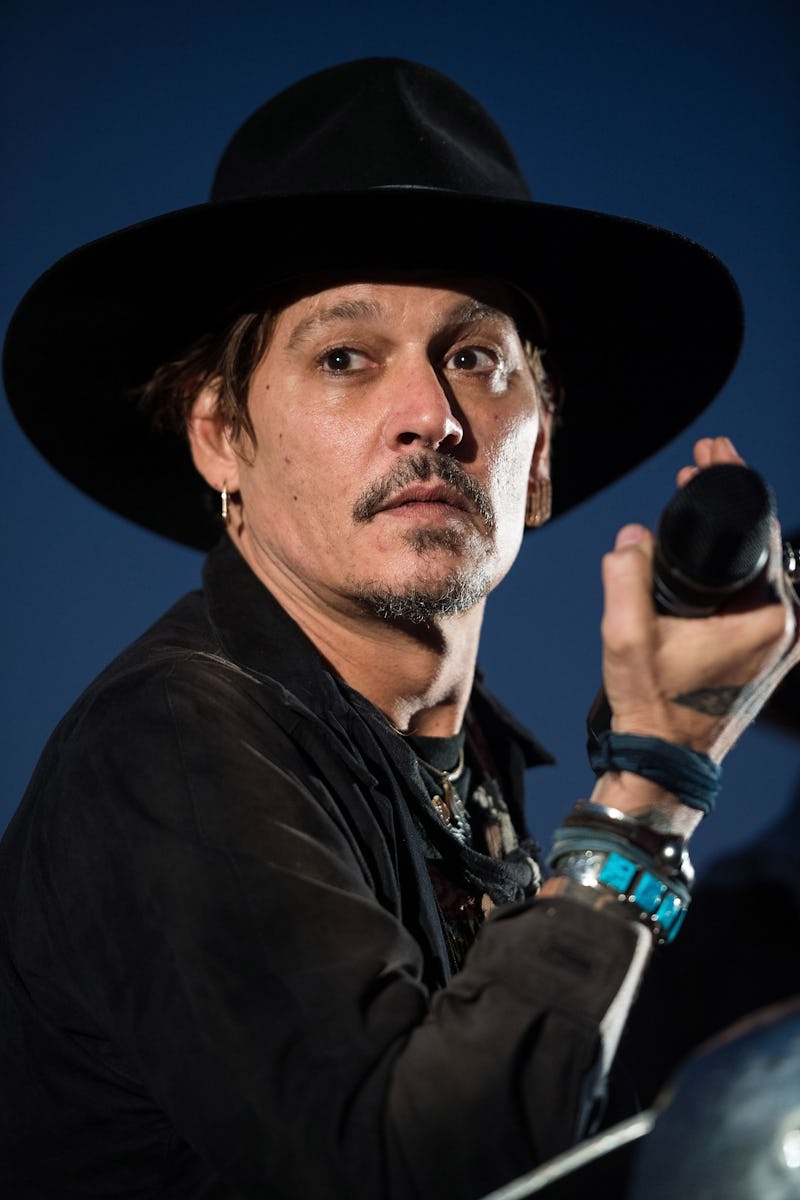 Ian Gavan/Getty Images Entertainment/Getty Images
At the Glastonbury Festival in England on Thursday, Johnny Depp landed in hot water after making a remark about President Donald Trump being assassinated. His comment has caused much controversy, with some people even taking the opportunity to bring the Pirates of the Caribbean star's ex-wife into the mix. But Amber Heard shouldn't have been a part of the Johnny Depp controversy. The fact that she's being talked about in connection to this at all is troublesome, and it's important for everyone to recognize why that is.
UPDATE: Depp has apologized for his comment in a statement to E! News:
"I apologize for the bad joke I attempted last night in poor taste about President Trump. It did not come out as intended, and I intended no malice. I was only trying to amuse, not to harm anyone."
EARLIER: If you haven't heard about Depp's comment, the 54-year-old actor asked the festival audience, according to Rolling Stone, "Can we bring Trump here?" He then added, "I think he needs help." Things went downhill fast when the Oscar-nominated actor declared,
"When was the last time an actor assassinated a president? …I want to clarify, I am not an actor. I lie for a living. However, it has been a while and maybe it is time."
It appears Depp realized that his comment would make headlines, because before stating it, he said, "This is going to be in the press, and it will be horrible. But I like that you're all a part of it."
CNN spoke with Secret Service staff assistant Shawn Holtzclaw, who said that the Secret Service is aware of Depp's remarks. The White House also responded with the following statement released to ABC News Friday:
"President Trump has condemned violence in all forms and it's sad that others like Johnny Depp have not followed his lead. I hope that some of Mr. Depp's colleagues will speak out against this type of rhetoric as strongly as they would if his comments were directed to a Democrat elected official."
Bustle has reached out to Depp's rep for additional comment, but did not receive a response at the time of publication.
Well, Depp was right. He is very much in the press. And he got so many people talking that there are some comparing Heard's abuse claims against Depp to his assassination comment.
In May 2016, the 31-year-old filed a restraining order against Depp claiming domestic abuse, which was granted by a judge; Depp denied the claims against him through his lawyer. Eventually, Heard withdrew the domestic violence restraining order petition at the same time her divorce from Depp was settled in August 2016. The first announced their divorce last May.
At the time of their settlement, they gave the following statement to TMZ:
"Our relationship was intensely passionate and at times volatile, but always bound by love. Neither party has made false accusations for financial gains. There was never an intent of physical or emotional harm. Amber wishes the best for Johnny in the future. Amber will be donating financial proceeds from the divorce to a charity."
Understandably, many are in an uproar over what the Fantastic Beasts and Where to Find Them actor has said about Trump. By no means is what Depp said OK, but making Heard part of the conversation wasn't necessary. Clearly, she's part of it now and that can't be changed, but she shouldn't have been in the first place. On the one end, there are people making somewhat solid points about the situation while mentioning Heard and on the other there are people sharing uncalled for images of Heard with bruises. But all that said, regardless of the context in which she is being brought up, it didn't need to happen because she had nothing to do with what Depp said.
For example, one person tweeted, "It's interesting to see many of the people who trashed Amber Heard & side with Johnny Depp suddenly grow a conscience." There are many who agree with this tweet's stance and are wondering what it's going to take for a woman to be able to come forward with claims and be taken seriously — and that's a valid point.
It's troubling that many people dismissed Heard's claims as being about financial gain when she came forward with the abuse allegations against Depp and even continued to call her a gold digger after she announced she would be donating her divorce settlement money. But even if people are sensing a disconnect between the reaction to Heard's claims and the reaction to Depp's Trump comment, this controversy doesn't have to involve Heard's name or her past.
As for posting images of Heard with bruises on her face, well, that's beyond wrong. Her claims should not be used to further another argument. Her name shouldn't be part of this narrative at all. The Danish Girl actor has nothing to do with what Depp said. She is her own individual person, living her own separate life, and has worked hard to establish her own life away from Depp, especially after everything they've been through privately, in the media, and that they continue to face in the press. All that bringing up Heard is doing is resurfacing her personal business.
It seems that many are coming to Heard's defense and only want the best for her. It also looks like people wish she would've received better treatment when she first claimed Depp physically abused her. But the way it's being handled isn't OK. Heard didn't ask to be a part of this, and she shouldn't have been.